Find Out the 4 Simple and Effective Actions Smart Fashion Retailers Are Taking Today To Increase Their Christmas Revenue Fast
As the festive season officially begins, like everything else in 2020, this year's Christmas shopping will be quite different than what we are used to.
Fueled not only by the global pandemic itself but also the permanent effects of the pandemic on customer behaviour and preferences, retailers who depend on strong Christmas revenue uplift will need to significantly polish their online experience to stay competitive.
2020 Will Be A Digital Christmas
Even in the best-case scenario where physical stores will be open for the festive period, a minimum of one-third of all Christmas revenue will come from online shopping.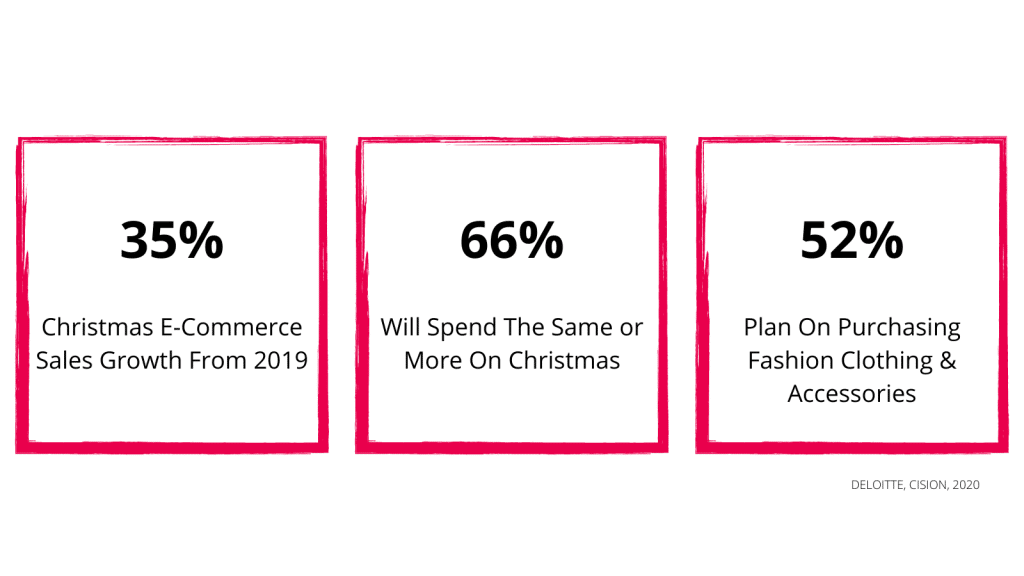 Deloitte is expecting holiday e-commerce sales to surge by 25% to 35%, amounting to between $182 billion and $196 billion. On top of the additional demand for online shopping, research finds that 3 in 10 shoppers will start their holiday shopping earlier than previous years.
With the festive clock ticking and more than ever at stake to reach healthy margins after an unprecedented financial year, smart retailers are already at work to turn Christmas into the much-needed revenue boosting opportunity it promises to be.
Regardless of your e-commerce maturity stage, these 4 Quick Actions will ensure your online experience is perfected in time to guarantee success this Christmas:
Action 1: Know Your Different Shoppers And Implement A Simple Strategy That Resonates With All
You will get existing and new visitors from all consumer segments during Christmas. Your best bet is to think and act simple to make the improvements to your online store that will speak to all these segments.
Segment 1: DIGITAL NATIVES
The majority of Millennial and Gen Z shoppers – the Digital Native generations – fall in this segment. These experienced online shoppers compare products, price and customer experience as part of their shopping journey and have high expectations from retailers who want their business.
Digital Natives Are Shopping Upscale Despite The Pandemic
They are still buying upscale goods despite being hit by the pandemic and plan to spend the same amount or more for this year's festive shopping compared to 2019. Needless to point out, capturing the attention of this segment alone will significantly boost your Christmas revenue.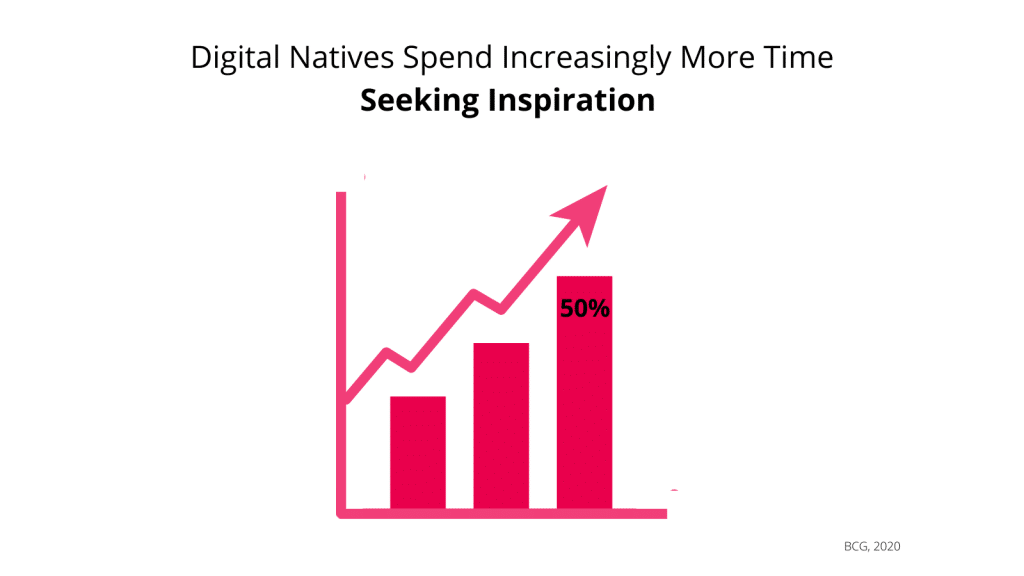 Inspiration Is The Master Key To Their Hearts And Wallets
However, there's a catch: They spend 50% of their shopping time seeking inspiration and easily bounce off to competitors if they don't find what they are looking for fast and easy.
Complete the Look recommendations work particularly well with this segment to inspire and upsell.
Explore here how you can make inspiration your core competitive advantage to keep upselling to this segment past Christmas.
Segment 2: DIGITAL NEWCOMERS
Gen X and Baby Boomers – parents of the Digital Natives – fall in this segment. Don't let the word newcomer mislead you: Although they are not as experienced in e-commerce shopping, they are catching up fast!
Digital Newcomers Are Maturing Fast
These consumers moved online during the pandemic and since March 2020, 62% of this segment shop online-only. Now that they are on board and increasingly more comfortable with shopping online, they want to take advantage of all the benefits e-commerce can offer.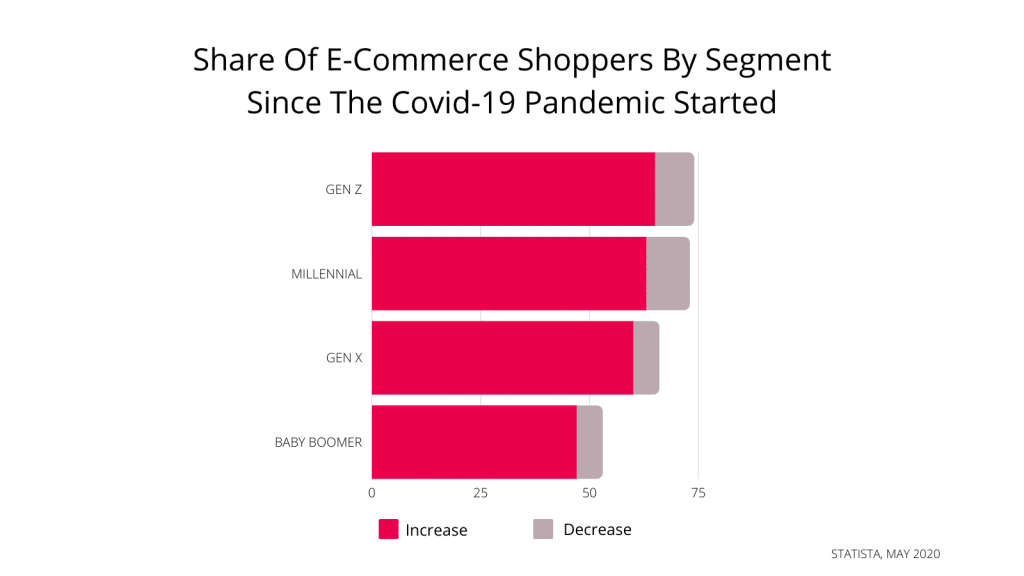 Exceptional Customer Support Is What Converts Them
The best way to capture and keep their online business is by providing exceptional customer service support and making your online shop as easy to navigate as possible.
Visual Similarity recommendations are a great way to ensure Digital Newcomers discover a wider range of your catalogue with minimum friction. 
Segment 3: OMNICHANNEL CHAMPIONS
This segment is made up of shoppers from both Segments 1 and 2, therefore more difficult to decode and standardise.
Omnichannel shoppers complete a single shopping journey through multiple online and physical brand touchpoints.
Omnichannel Champions Want To Engage On All Touchpoints
The most common scenario is: they do their research online, save the items they like and go into a physical store to get a real feeling of the product. They may make the purchase right there and then or choose to compare some alternatives, then buy online at a later time.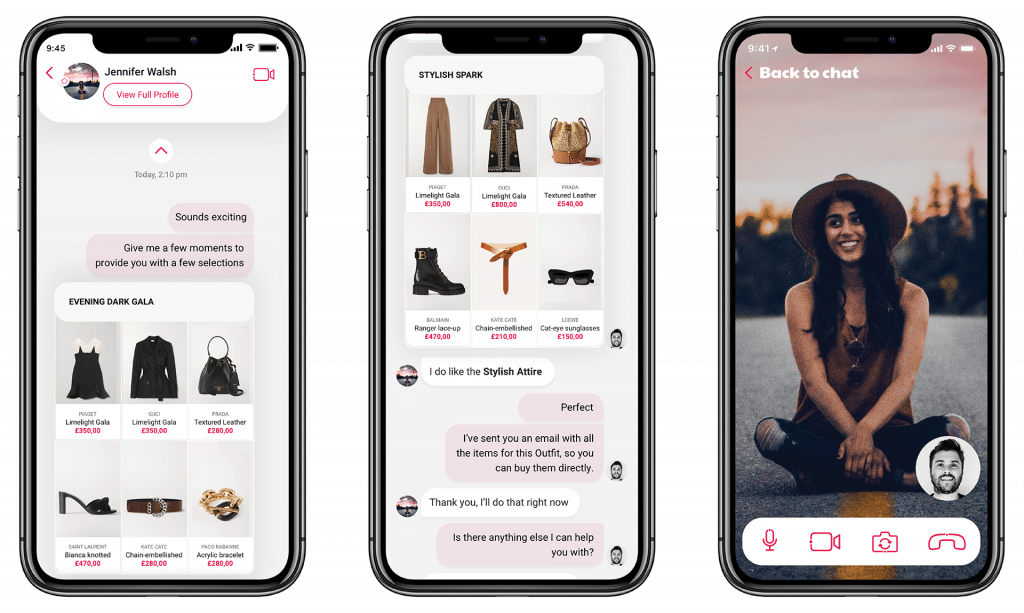 Communicate To Them The In-Store Feeling Remotely
Remote Selling tools that allow in-store sales associates to keep an ongoing line of communication with these shoppers are the best way to keep them engaged with your brand and avoid losing their business to a competitor.
Especially if stores close down again during Christmas, remote selling will be your only hook to communicate the in-store feeling to this segment at a distance.
Action 2: Excel At Seamless Product Discovery To Guarantee Your Competitive Advantage
At a busy shopping event like the festive period, your best and fastest route to increasing christmas revenue is through perfecting your product discovery tools.
With so many options available, shoppers will want to discover a wide range of products as quickly and easily as possible without dealing with complicated filters or browsing endless pages of irrelevant products.
Product Discovery Time Is The Make or Break Of A Shopping Journey
Product discovery time is the differentiator that determines if you win or lose the business of a shopper. We know that modern shoppers have dangerously low levels of patience at the product discovery stage. In fact, the majority of bouncing off to competitor websites happens due to discovery friction.
During christmas, when many people are shopping not just for themselves but for multiple other people, their patience and time is even lower than usual.
Product Discovery Is Your Main Tool To Facilitate Gift Shopping
When gift shopping, most visitors have a good idea of what kind of product they are looking for, if not know exactly what they want to purchase down to detailed attributes – such as a lilac top with puff sleeves in a soft fabric.
Visual Similarity recommendations showing available similar in-stock options that share the same or compatible attributes on every product page facilitate product discovery.
Moreover, they are your safety net for when a high-demand product goes out of stock by making sure that the shopper can see other relevant products easily, without taking any further action.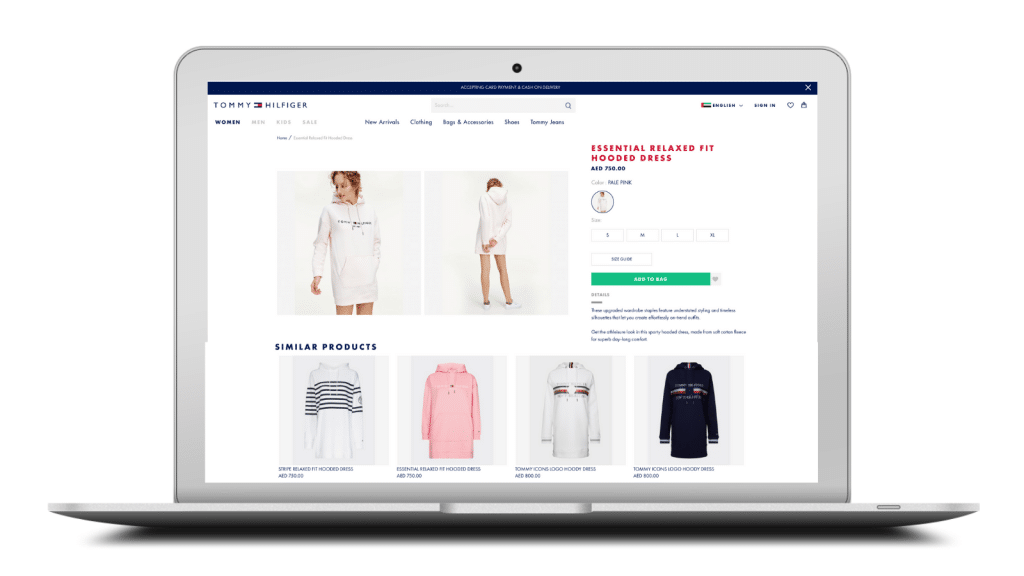 Visual Similarity Recommendations Outperform Generic Recommendations
When A/B tested against "You May Also Like" recommendations of the market-leading generic recommendation engine, Visual Similarity recommendations delivered 103% Higher CTR (Click-through Rate) and 130% Higher Revenue.
This simple addition to your online store will instantly uplift your Christmas revenue and customer satisfaction.
Action 3: Prioritise Exceptional Customer Experience Now To Reduce Post-Christmas Returns
While Post-Christmas returns are unavoidable, there are easy steps you can take to significantly reduce the ratio of returned products.
The main reason for excessive returns is because shoppers don't have the right guidance and assistance to find the right products at the time of purchase or they don't know how to style and wear the products that they've purchased.
Let's handle the two issues separately:
1- Finding the Right Product:
Most shoppers return items because they are not right for their bodytype. And that does not mean that they are not in the right size! You can buy a product in the right size that still doesn't compliment your unique physique.
By showing your shoppers the products that compliment their bodytype, you will reduce the number of returns for the festive period and further.
Make It Easy and Fun To Shop For The Right Bodytype
Having a dropdown on the product page where visitors can select and change the bodytype they are shopping for gives them the flexibility to shop for themselves and their loved ones.
Seeing as most people don't know their bodytype, providing visual guidance to find the right bodytype is essential to take full advantage of this feature.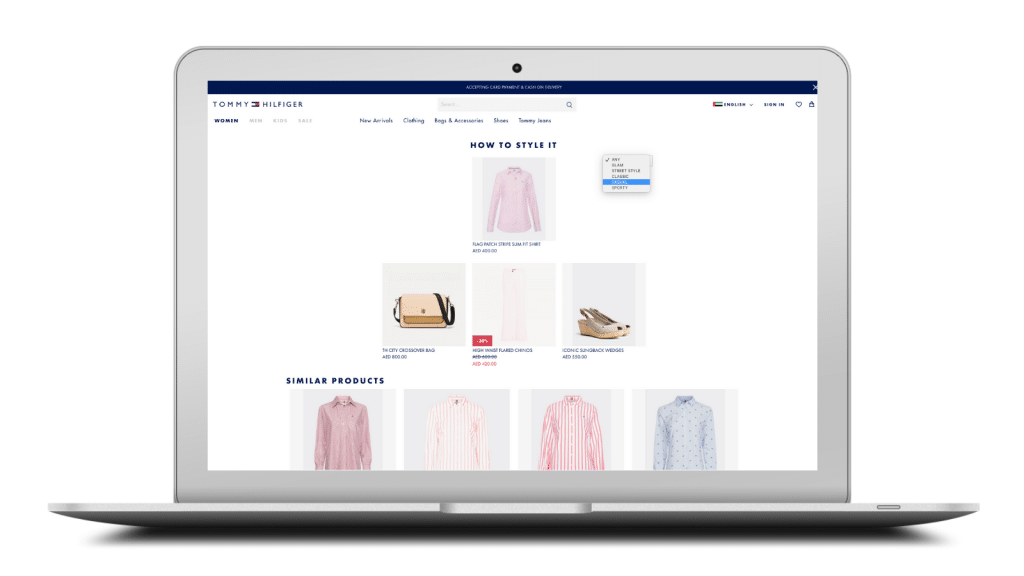 2- Show How to Style Every Product:
Having Complete the Look Outfit Recommendations on every product page means that your visitors can see how to wear the products they like as part of a full outfit.
This type of recommendation is especially important if you want to upsell from single product to complete looks during the festive period to increase your Christmas revenue.
Style Every Product For Multiple Occasions To Upsell
A further improvement on your customer experience is showing how they can style the same product for a number of different occasions. Shoppers are more likely to make a purchase decision fast if they see that they will get a good return on investment from a product by wearing it to multiple occasions.
An occasion dropdown will turn every product page into a mini shop within the shop and open a stream of opportunities to up and cross-sell.
Action 4: Choose Technologies That Require Minimum Effort To Implement For Maximum And Immediate ROI
As we mentioned, Christmas is fast approaching and the last thing you want to do is invest in a technology solution that will not be ready in time to give you a Christmas revenue boost during this festive season.
A.I. and Visual Recognition technologies can automate your processes while enhancing your online experience at the fraction of the cost of manual efforts. Yet, finding the right solution provider will determine how much Revenue uplift and ROI (Return on Investment) you get.
Look For: Minimum Burden On Your In-House Teams
Look for easy to implement solutions with minimum or no burden on your in-house tech teams who will be up to capacity making sure your online store keeps operating seamlessly.
Ask For: Proven ROI for The Fashion Retail Industry
When looking for the right solution provider, another key question to ask is the ROI (Return on Investment) they have been proven to bring for their existing retailers in the fashion and luxury industry.
Generic solution providers can do wonders for other industries but fail to meet the needs of a fashion retailer and the unique requirements of fashion consumption.
Key Takeaways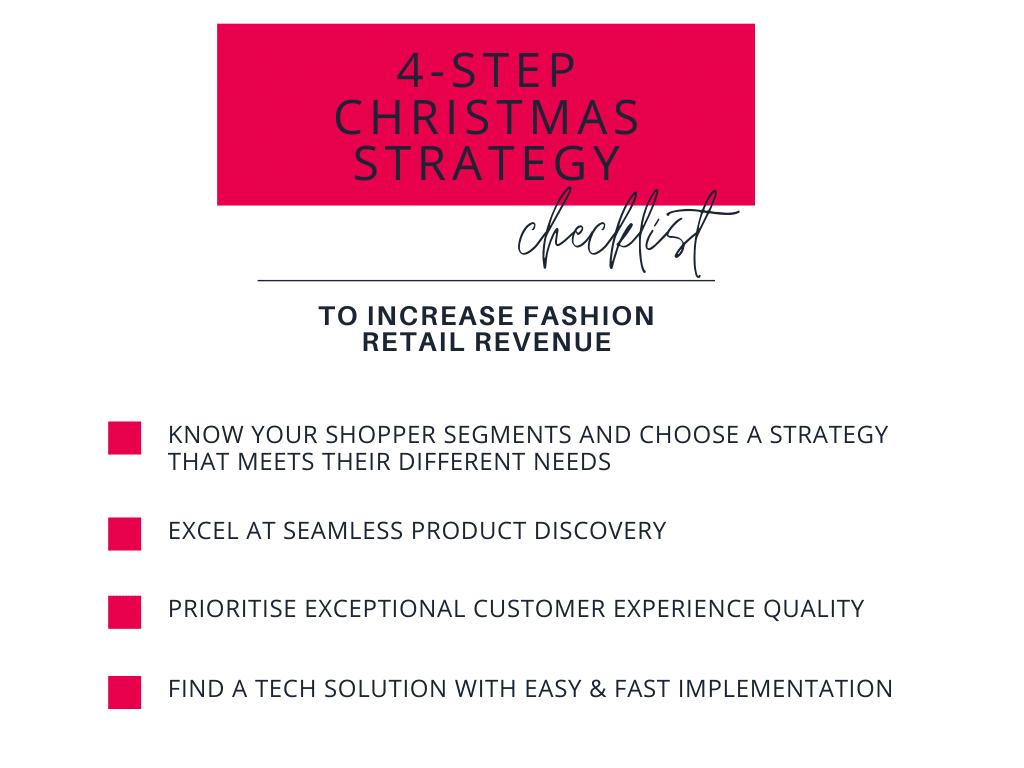 Take Action Today, Uplift Your Revenue Through Christmas & Beyond
See how Intelistyle's A.I. and Visual Recognition Technology is boosting revenue with exceptional ROI for the world's leading fashion and luxury retailers.
Get in touch today to find out the tailored solutions we can offer to your retail business with zero implementation burden on your in-house teams to start increasing your Christmas revenue.