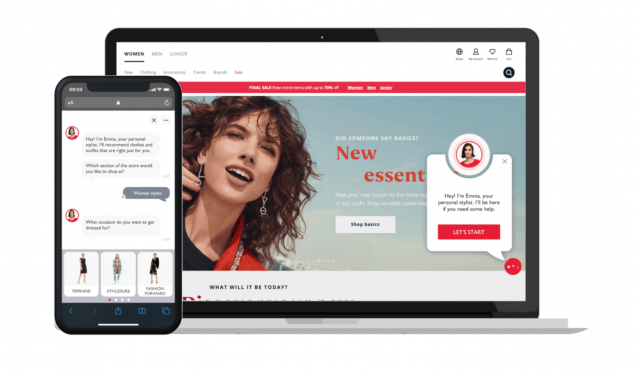 Shopify has over a million merchants on its platform and around 25% of them fall within the fashion industry. It's one of the most popular industries and one of the most competitive ones. While setting a fashion store on Shopify can be easy and straightforward, finding the right apps for your store can prove a challenging and daunting experience. To help you out with this process we've compiled the top 15 Shopify apps for fashion stores.
1. UpPromote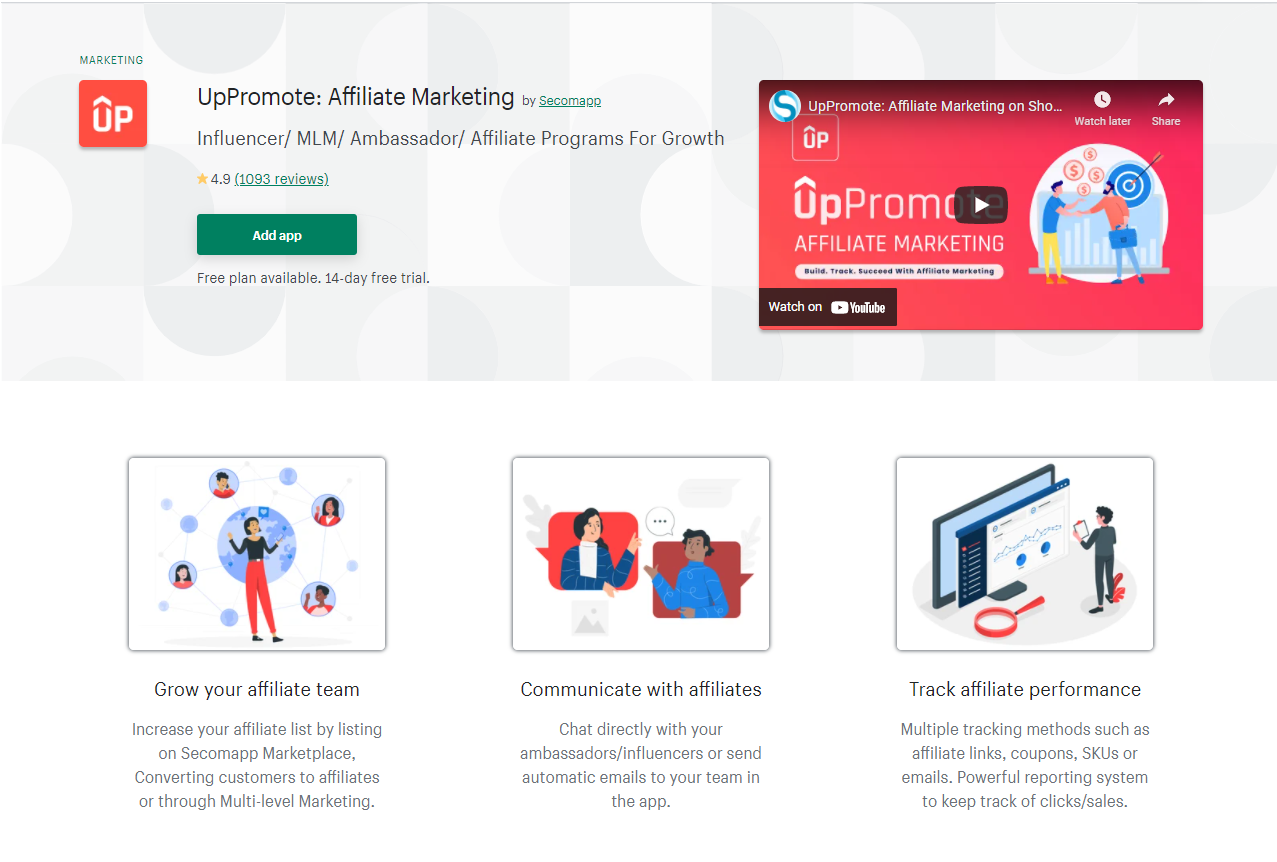 The power of affiliate marketing is to use affiliate's voices for reaching a wider customer and increasing revenue. And UpPromote: Affiliate Marketing is one of the best Shopify apps to support you build, track and succeed with affiliate marketing.
No technical knowledge is required, UpPromote is friendly even if you are a newbie. With this app, each affiliate will have an auto-generated affiliate link which leads directly to your store. In addition, if you want to assign coupons for members, the app can do that automatically. The app allows you to track all referral orders and your affiliate's performance via multiple tracking methods.
The highlight of UpPromote is UpPromote marketplace in which you can approach more qualified ambassadors. The more affiliates join your program, the more customers know your brand. Besides, you can expand your affiliate team through Converting customers to affiliates feature, or Multi-level Marketing feature. Therefore, UpPromote is a great supporter for you to succeed with affiliate marketing.

2. Omnisend

Omnisend is the go-to email and SMS marketing platform for ecommerce stores. With Omnisend, you can automate your marketing campaigns, reach your customers across multiple channels, and drive more sales — all while building stronger relationships with your customer.
Here are some key features of Omnisend:
• Multichannel marketing automation: Reach your customers wherever they are, whether it's email, SMS, or push notifications. Create custom workflows that trigger automated messages based on customer behavior, purchase history, and more.
• Personalization: With Omnisend, you can personalize every message to make it relevant and engaging for each customer. Use dynamic content blocks to add personalized product recommendations, discounts, and more.
• Segmentation: Segment your audience based on their behavior, interests, and purchase history. Create targeted campaigns that speak directly to each segment, and see higher engagement and conversion rates.
• Reporting and analytics: Get real-time insights into your email and SMS campaigns. Track your open and click-through rates, and sales, and use that data to optimize your campaigns for better results.
Whether you're just starting out with email marketing or looking to take your campaigns to the next level, Omnisend has everything you need to succeed.

3. Adwisely
Adwisely is an online ad automation platform for eCommerce stores. It helps online store marketing managers create and manage efficient ads on Facebook, Instagram, Google, and YouTube. Once you sign in, you can either set up a campaign by yourself – this should only take you a few clicks – or contact their support team if you have questions or need help. Adwisely combines the ad automation with human expertise & work with a wide range of markets and products categories. The account manager they provide can monitor the ad results, provide improvement suggestions and send regular reports on ad activity. As a result, Adwisely users get high return on ad spend – on average, their ROAS is 600%-700%.

4. SuperCEO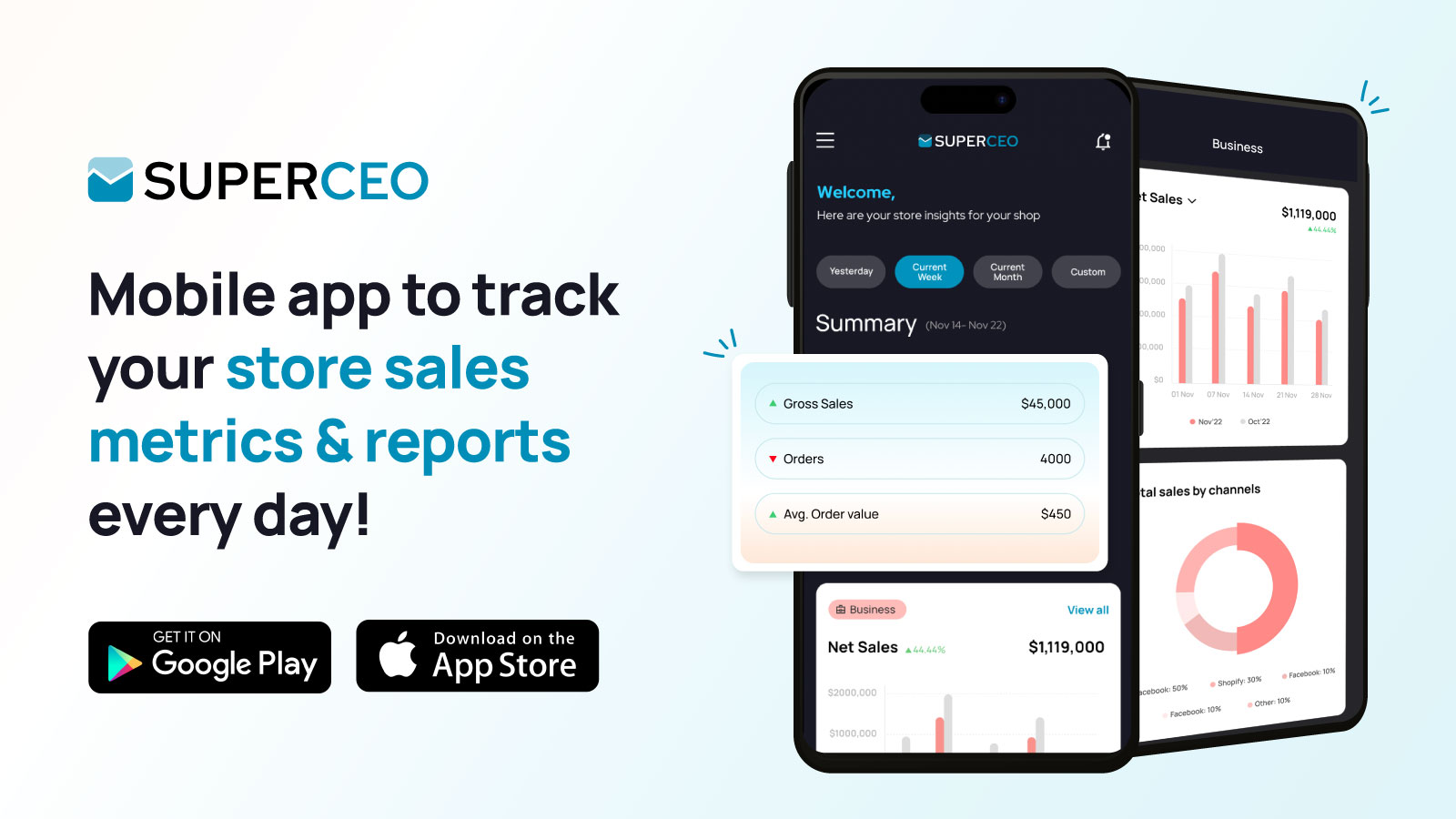 SuperCEO helps you get your daily business metrics on your mobile app and email daily. You can get accurate store sales insights to track your store's growth from the total sales, new VS repeat customers, to the average order value on a single tap. It also helps you learn your daily business metrics instead of making decisions from your gut feeling.
Here are some key features of SuperCEO:
• Real-time insights on your mobile and email: You can get tailored real-time store metrics on your mobile & email every morning.
• Monitor revenue, cost, and profitability metrics: Now, you can unlock your store's revenue growth with crucial metrics. Discover trends & insights to drive growth.
• Deep dive into data: Compare sales metrics by days, weeks, and months & discover insights and trends.
• Updates via notification: Get notifications on your mobile for critical sales metrics.

5. Tada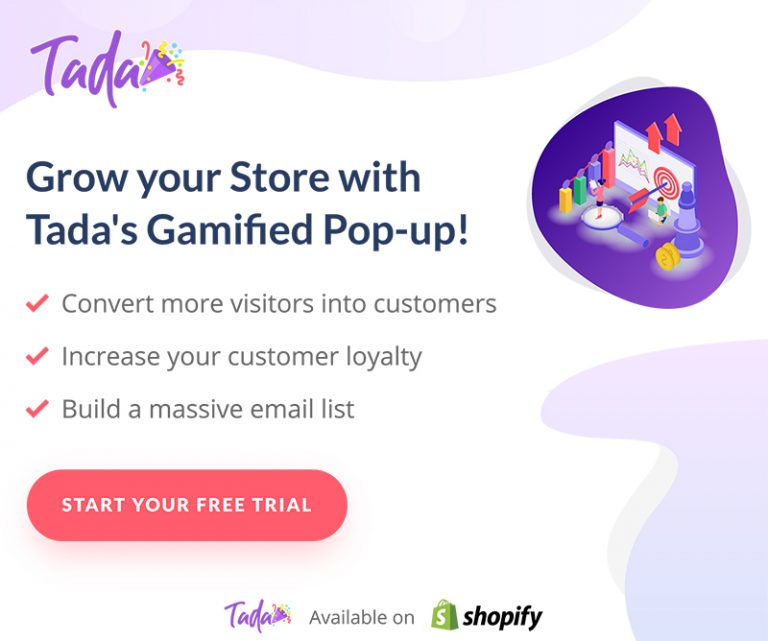 Marketing strategies have been remodelled from being solely digital to a more personal focus. And now, marketing strategies are progressing to even include a psychological aspect of customer behaviour and preferences.
Nowadays, gamification pop-ups are used as a marketing strategy to give a game-like experience to the customers. Instead of usual pop-ups that offer a discount coupon, you can create gamified email pop-ups with the help of tools like Tada.
Tada
offers various gamified and exciting popups that allow Shopify store owners to capture more subscribers and increase sales and conversions. Gamified email-popups not only helps in building your email list but also increases the effectiveness of your pop-up campaigns. You'll also be able to increase conversion rates as well as your coupon usage rate. Ultimately, you'll be able to create a memorable website experience.
Examples of few games that the successful stores are using include – game of cards, wheel of coupons, 'spin to win' wheel, digital badges, reel of coupons, and much more.

6. Smile: Rewards & Loyalty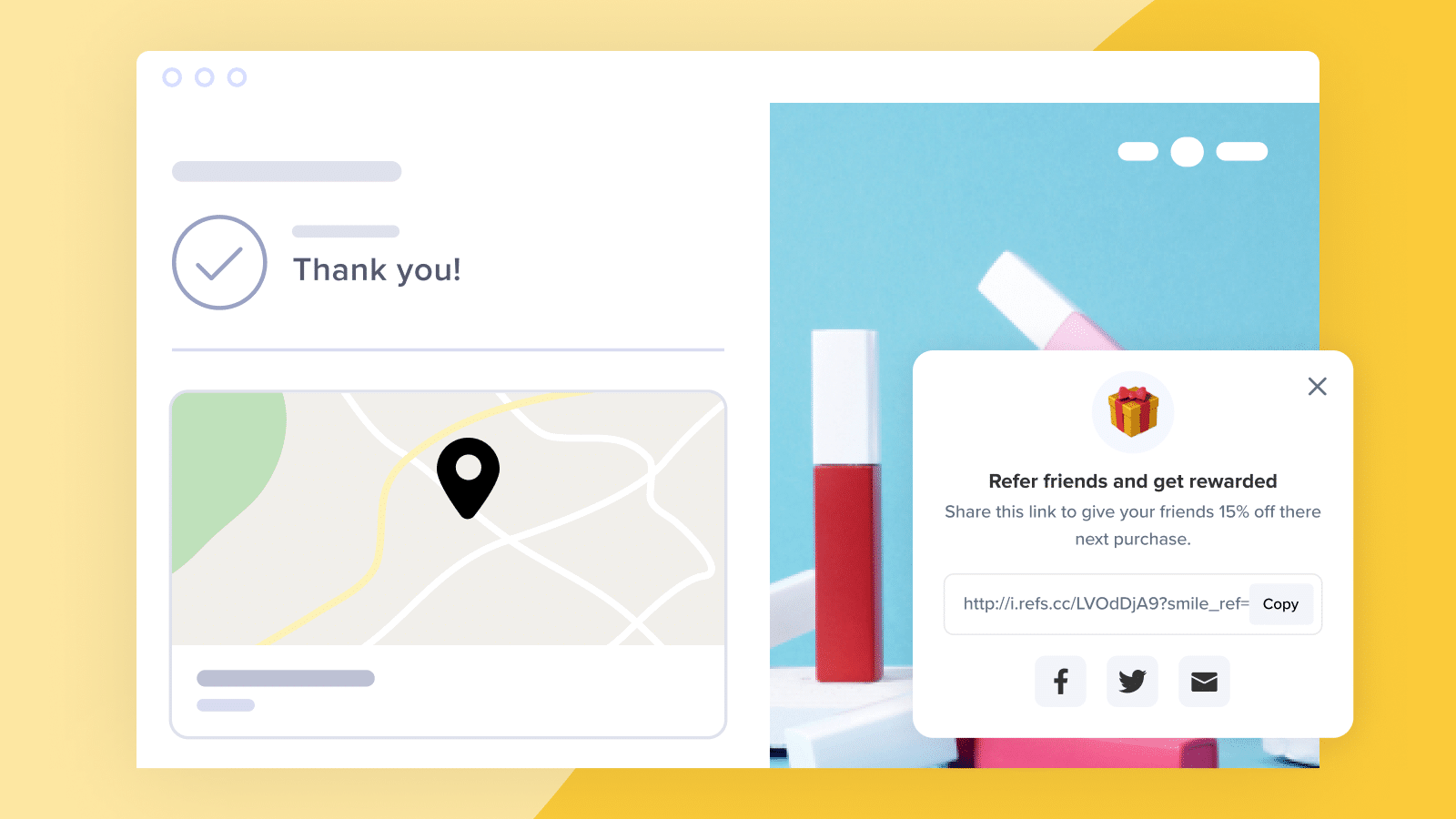 Smile is one of the most popular reward and loyalty Shopify apps for fashion stores in the marketplace. It is currently being used by more than 25.000 merchants and keeps growing. A reward or loyalty program is a must-have in your fashion store, as it can help you improve your retention, so your customers will keep coming back.
With Smile app, you can run three kinds of programs: a loyalty points program, a referral program or a VIP program. Once you choose the program you wish to run, your customers can start collecting points for a variety of actions like purchases, friend referrals, registrations or social media shares/follows. These points can later be redeemed for discounts, vouchers, free shipping or other customised rewards.

7. Intelistyle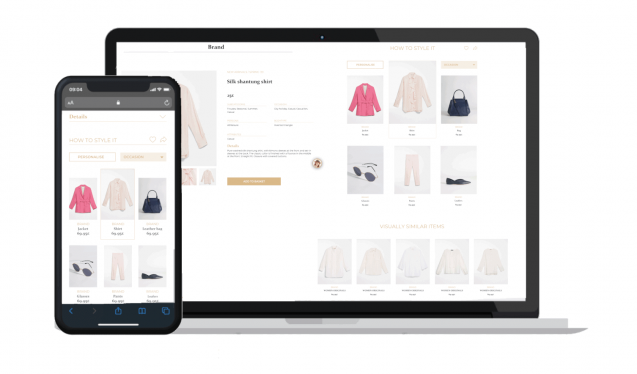 Intelistyle is one of the best Shopify apps for fashion stores to increase your sales and conversion. They have been working with some of the biggest fashion brands in the world like D&G, Tommy Hilfinger and MaxMara helping them increase their sales by up to 10%. Intelistyle has recently made its award-winning AI technology available for Shopify merchants, so they can get advantage of all the features they offer a fraction of the price!
Once you install the app, you will get:
1. Complete The Look Recommendations & Visually Similar
Intelistyle generates automatically personalised complete the look recommendations for all the products in your store to help you cross-sell and upsell your products easily. It also has visually similar recommendations in case one of your products goes out of stock, so you don't lose that sale.
2. An AI Fashion Chatbot
Your customers can get styling advice from an AI stylist that will help them find what they are looking for easily.
3. Fashion Attribute Tags
Tagging all your products manually with the right labels and attributes can be a time-consuming experience. Intelistyle uses AI to automate this process for you and help you manage your products better.

8. Product Filter & Search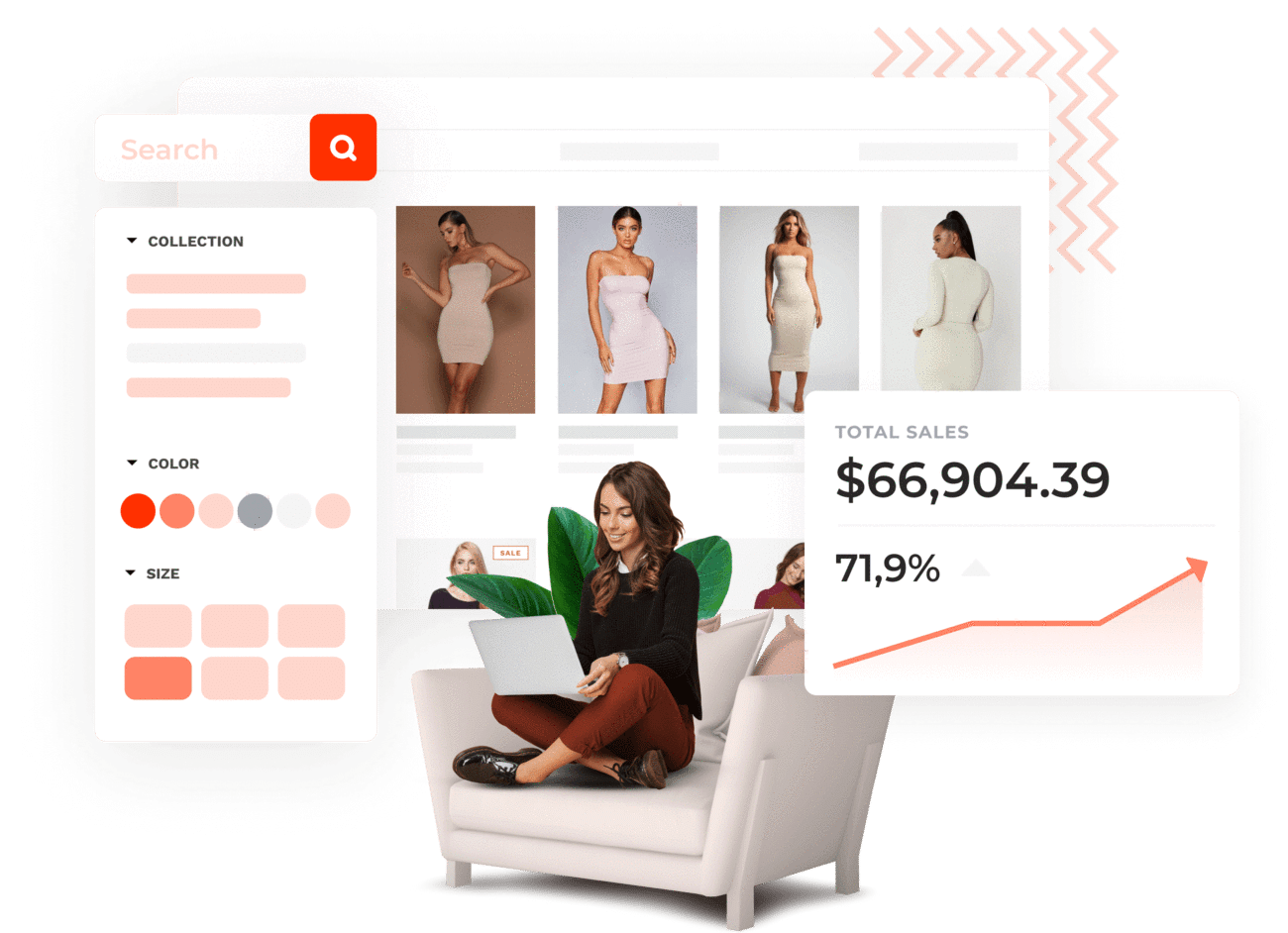 Have you ever wondered how easily can your visitors find what they are looking for in your store? Product Filter & Search allows you to create different filters for your search and allows your customers to search the products they are looking for by title, description, product type or even SKU.
Its smart search engine offers spellcheck, autocomplete and smart auto-suggestion in the form of thumbnails providing a great user experience. It is currently installed in over 7000 stores including brands like Mavi, Banana Republic, Lacoste and more.

9. Pinterest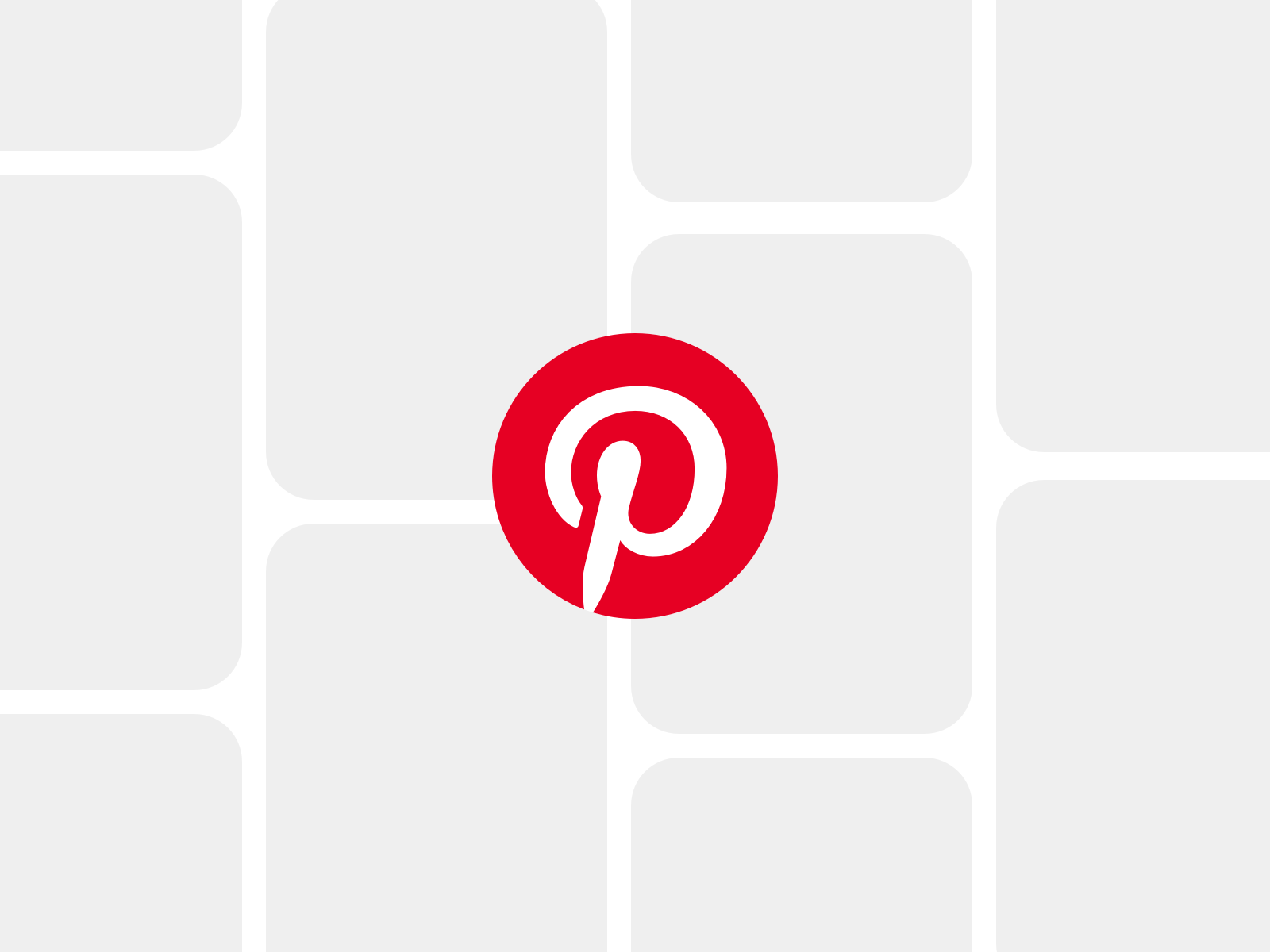 You are probably already familiar with Pinterest, one of the biggest social media channels with over 300 million users. Pinterest Shopify app allows you to connect your store to your Pinterest account and quickly publish product pins to reach more customers. It basically gives you another sales channel to increase your reach and get discovered by new shoppers.
To sweeten the deal, Pinterest offers $100 ad credit when you connect your account to the Pinterest Shopify app and run your first ad.

10. Wanelo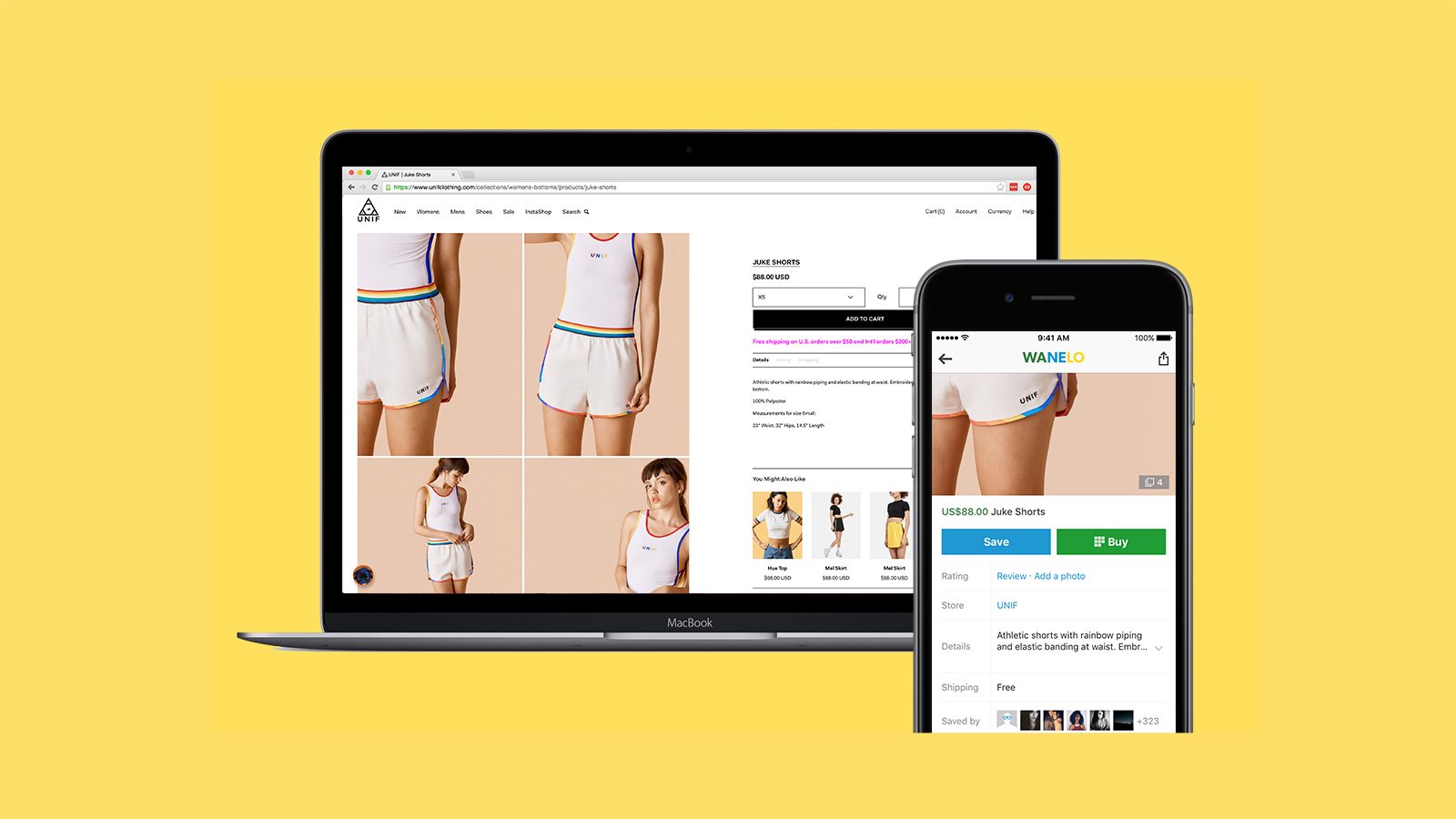 Wanelo is another sales channel you can use to reach more customers. Their marketplace is bringing together 800K stores and 50M products, all shoppable from one place. Once you install the app, you will have to go through their review process (which might take a while) and then you can start selling your products in their marketplace.
Unfortunately, Wanelo is only available for US customers at the moment.

11. Oberlo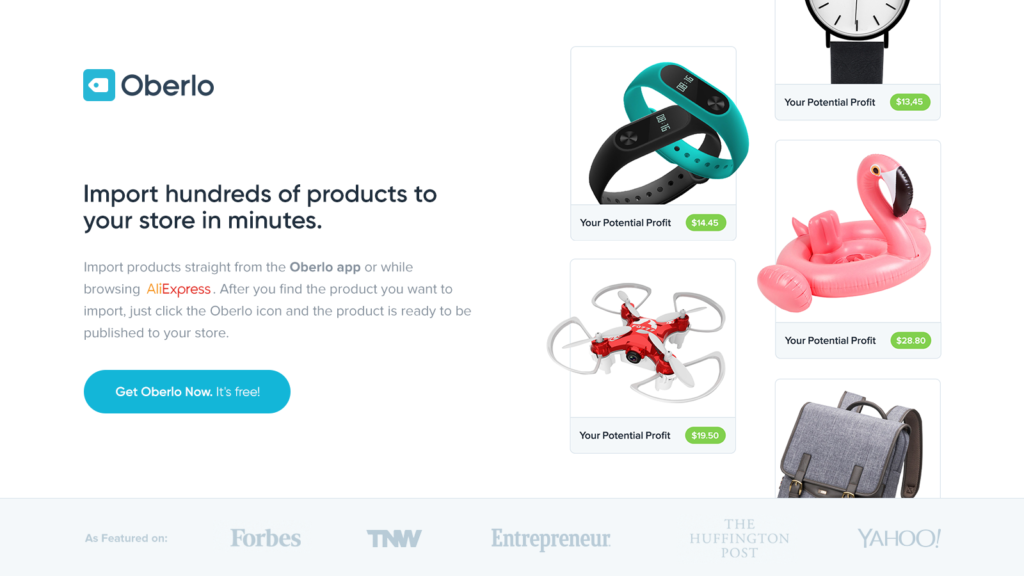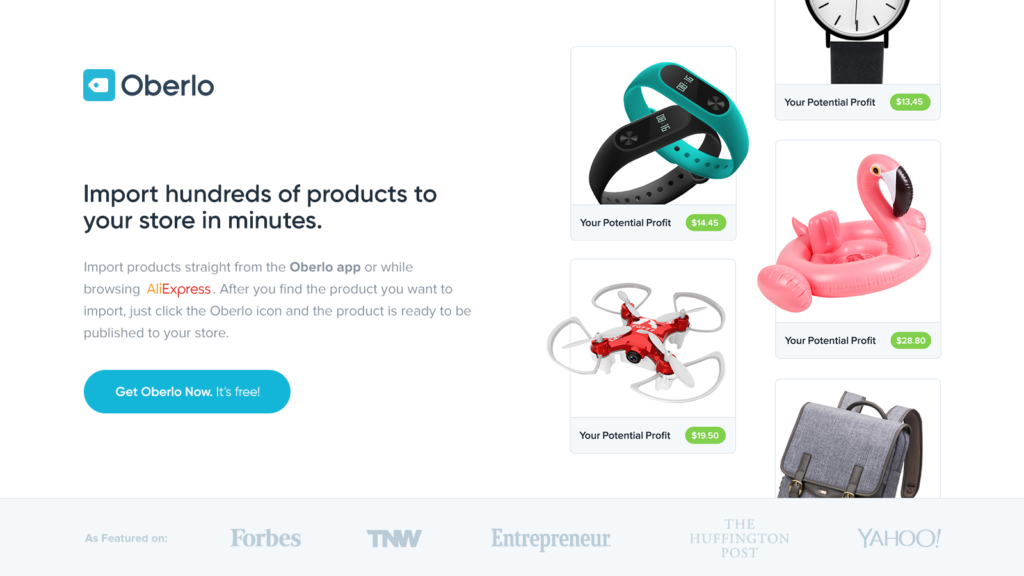 If you are just starting out and don't have any supplier yet, Oberlo is the perfect app for you. Oberlo allows you to dropship your products directly from AliExpress. They even have a chrome extension, so you can discover products from AliExpress and add them to your store with a few clicks.
Once you have imported your selected products, you set your prices and you are ready to go. The moment an order comes in, you just confirm the order inside the app and that's it. You don't need to worry about logistics or inventory.
Aside from Oberlo, there are many other Shopify dropshipping apps for adding products to your store. Most of them are free to use and compatible with a variety of suppliers, not just AliExpress.

12. Rise: Gift Cards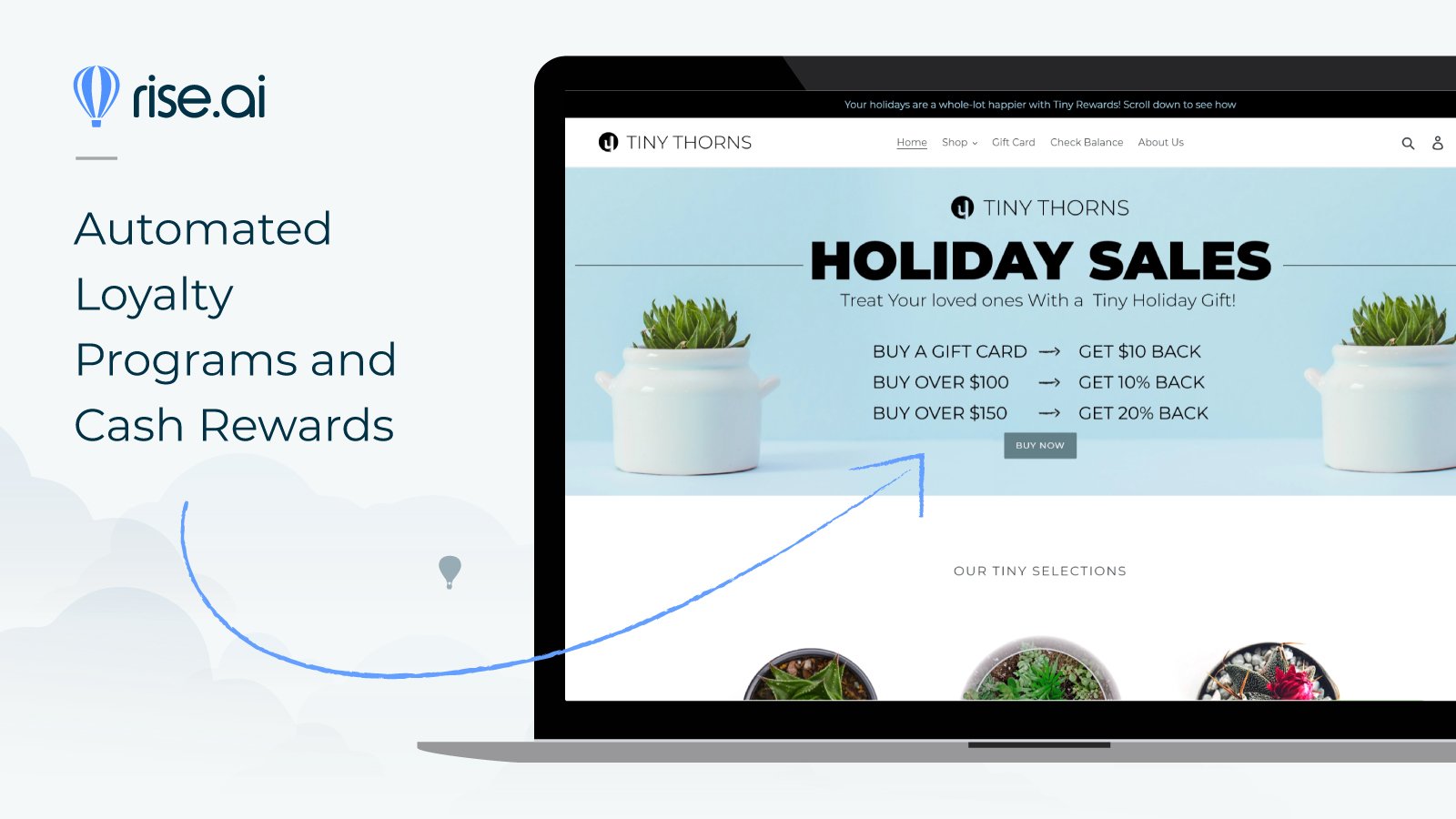 Rise is a great app if you are looking to create a loyalty or rewards program for your customers. It includes a variety of marketing tools you will need to increase loyalty, retention, and satisfaction. You can use store credit to manage rewards and loyalty cards or set up a referral program to get your customers to advocate for your store.
Your customers can also send branded, digital gift cards and gift vouchers directly to gift recipients via email. The variety of their features give you the opportunity to structure your loyalty program as complicated as you want.

13. SEO Optimizer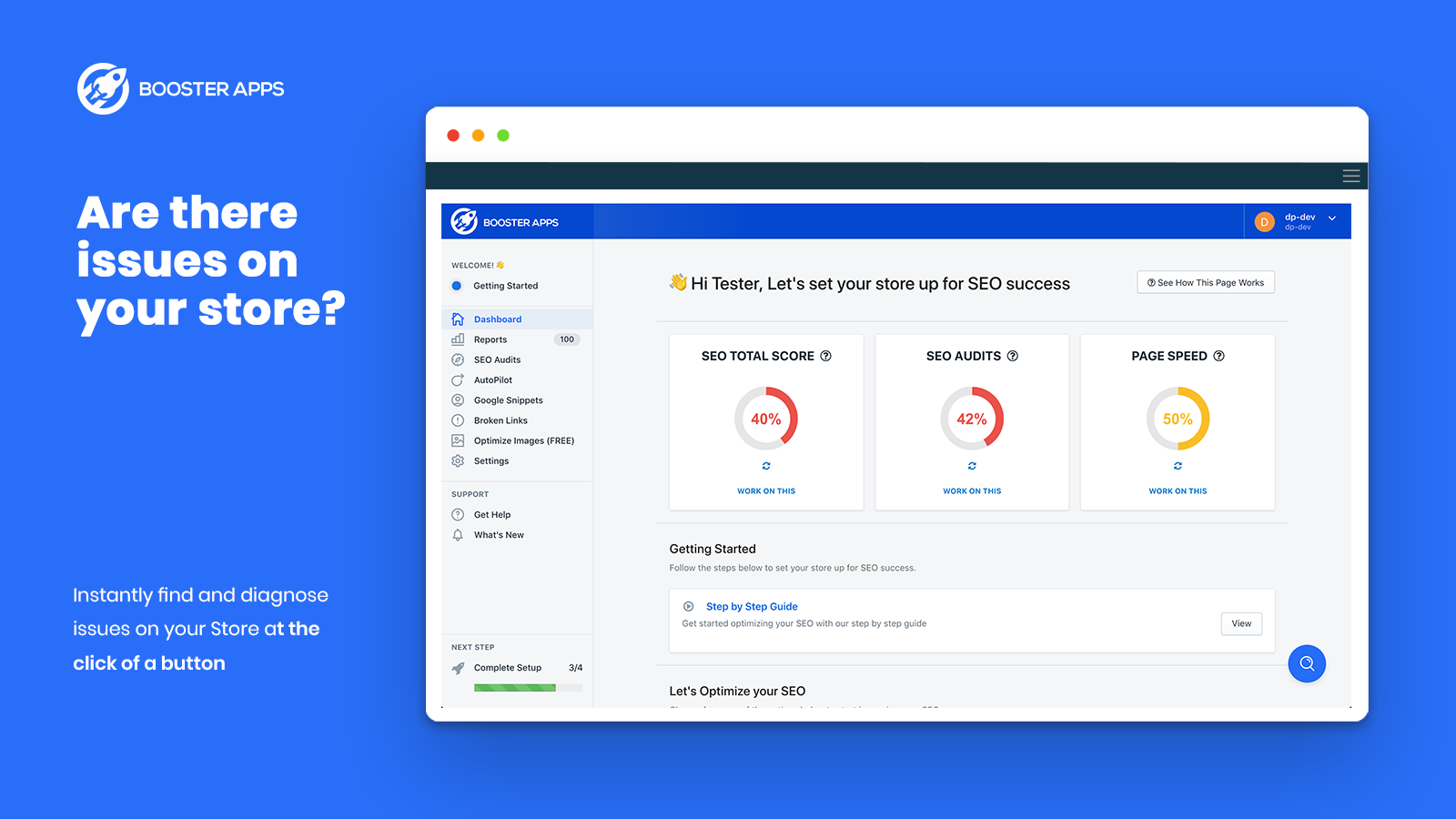 Search Engine Optimisation should have a constant place in your marketing mix. SEO optimizer is currently installed in over 382,000 stores and runs automatically SEO improvements for your store. It will take over your technical SEO optimization, so you don't have to worry about the continuous changes in Google's algorithm. They run updates for your store daily to make sure everything is updated to best practices.
The app doesn't guarantee increased search engine rankings, but they use the latest and best practises to optimize your store.

14. Klarna


You won't find Klarna on the Shopify marketplace. Klarna is a direct payment method that allows your shoppers to pay at a later date. What's more, is that you are getting paid full upfront, while your customers can choose to pay for their orders with a variety of options. One of the best Shopify apps for fashion stores to increase your conversion. The bad news is that is currently available only to merchants in Austria, Germany & Sweden.
Klarna is enabled by default when you set up Shopify payments provided you pass their review process. Once approved, your customers can choose Klarna as a payment option on checkout. They have also a Shopify app that provides customized messaging to let your customers know instantly how they can pay before they buy.
15. Size Matters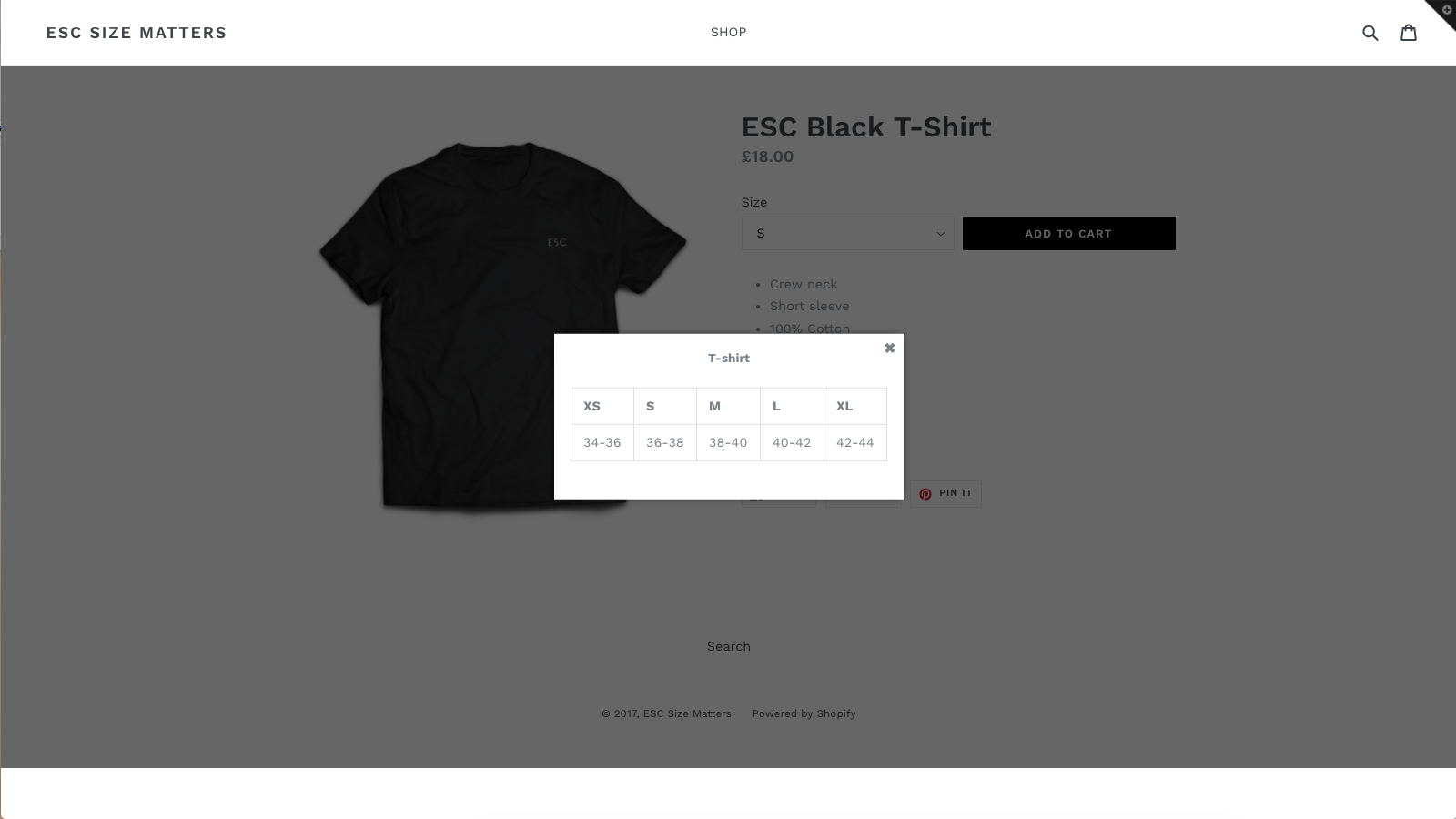 One of the most common reasons your customers are returning their clothes is that the fit wasn't right. Size Matters allows you to create size guides for your customers to help you minimize returns. The app can easily be customised to the look and feel of your store, but most importantly it's free!

Final Thoughts
There are a number of Shopify apps that can unlock new features and functionalities for your site and can provide a better customer experience for your customers and more sales. While the apps above are some of the best Shopify apps for fashion stores in the Shopify App Store, there are plenty more that can leverage your store to the next level. It all comes down to you to find the best app that suits your unique needs. Happy selling!