What Is Searchandising and How to Get It Right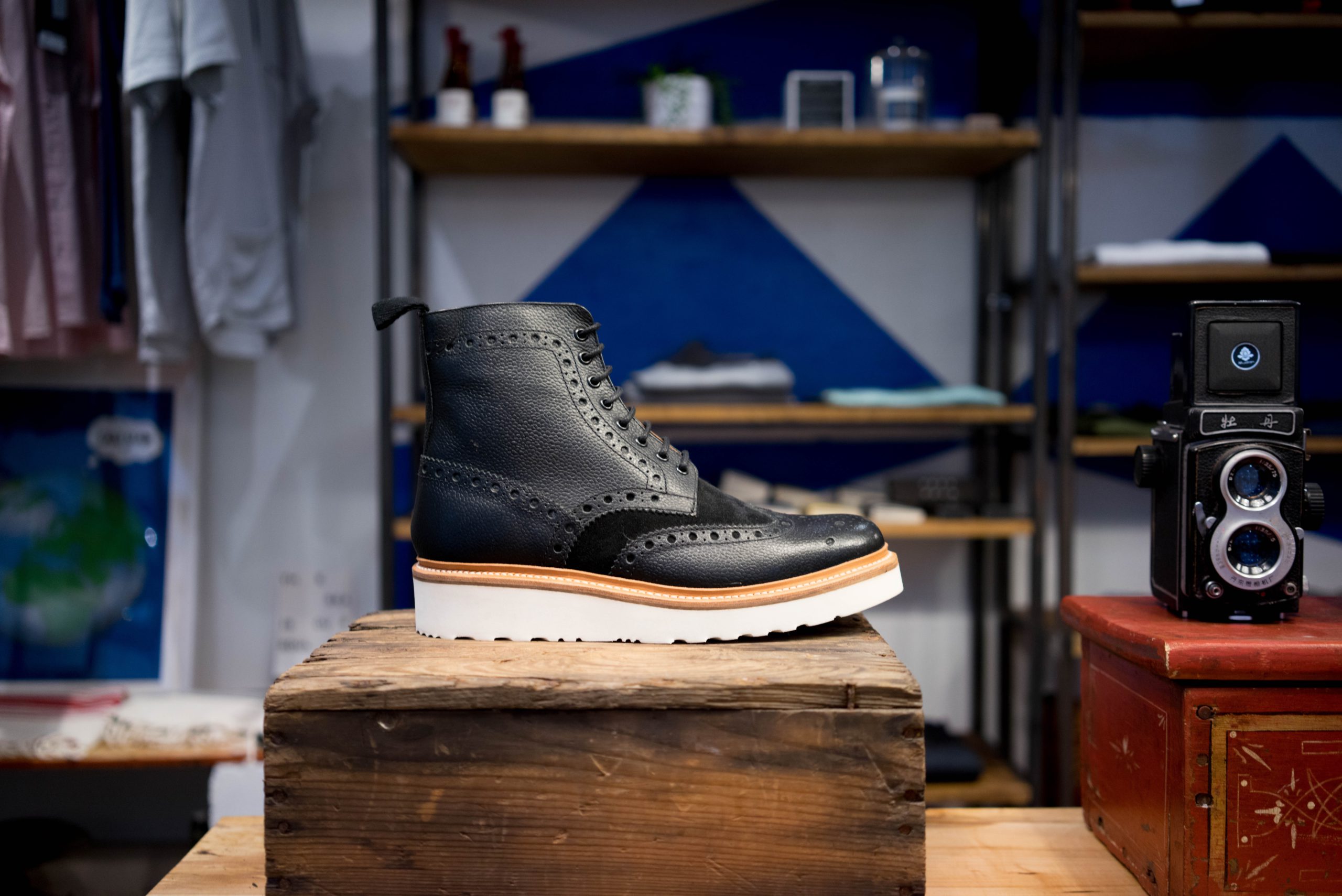 E-commerce is still on the rise. Last year, more than two billion people bought goods and services on the internet, with online retail sales exceeding $4.2 trillion worldwide. Although these are already huge numbers, if expert predictions are anything to go by, online sales will only keep growing. 

For existing online retailers, these may seem like terrifying statistics. After all, no one wants more competition. But if you play your cards right, that won't be an issue. 

Although more brands are selling online than ever before, in many ways, the customer experience they offer hasn't improved. While most shoppers visiting an online store expect to be able to find products they're looking for with ease, the reality is often very different. Customers frequently can't find the product they want to buy, or it takes them too long to locate the item they like because they are bombarded with totally irrelevant search results. 
The good news is that you don't have to be a mind reader to show your customers the items they want to see — and buy. All you have to do is utilise a growing trend in e-commerce: searchandising. 
What Is Searchandising?
Searchandising, or search merchandising, which is what the term stands for, is the practice of promoting specific search results via a website's search function to achieve business goals. 
Although the term is still fairly novel in e-commerce, in brick and mortar stores, retailers have been trying to guide shoppers' attention to the products they want them to notice and purchase for decades. Curating search results through searchandising allows online stores to do the same. 
With searchandising, retailers can do two things: 
Display products that are relevant to a user's search query, helping them find whatever it is they're looking for faster. So, if a shopper searches for "black dress pants," they are shown only black dress pants (not also, for example, black dresses). 

Incorporate promotions and items into searches that align with business goals, like highlighting trending black dress pants or dress pants with higher profit margins. 

From faceted search to auto-complete to recent and related searches, searchandising can comprise many elements, some of which may be manually set while others may be algorithm-driven. For instance, retailers may manually set boost-and-bury rules depending on stock availability, margin, and other attributes. At the same time, they may also use behavioural data and AI to automatically sort products based on personal taste.
Why Is Searchandising Important?
For many shoppers, the search-site function is far more critical than the navigation menu. 
Research shows that about half of users go straight to the search function on an e-commerce site, and buyers are more likely to use this function than browsers. The reason why is that people who use the search function tend to be at the later stages of their "buyer's journey." They have done their research, and they know exactly what they want. For them, all that's left to do is actually find the item they're looking for. 
The search box promises quick and relevant results. But it doesn't always deliver, which often leads to these highly qualified buyers moving on elsewhere. 
The fact is that most customers cite irrelevant product results as their top frustration. Unsurprisingly, about a third of visitors leave a site if they can't find the product they're looking for. They're probably not going to return, either. 
The opposite is also true. When browsers see relevant search results, they are not only more likely to convert but also to come back and recommend your store to others. The result is loyal customers and higher lifetime value. 
For retailers, searchandising makes it easier to adapt to business objectives by boosting or hiding products for a particular term. 
How to Make the Most Out of Searchandising 
When it comes to searchandising, there are many strategies you can use. Here are some of the most effective ones. 
1. Automate product tags
If a customer can't see it, they won't buy it. Seems simple enough, yet many brands still fail to successfully implement the one thing that makes product discovery easier: product attributes. 
A unique set of features and characteristics, product attributes allow customers to filter their search by things like fabric, cut, or print, which leads to more accurate results and a higher chance of a sale. 
While the vast majority of retailers understand the importance of product attributes, many still tag products manually. Unfortunately, this can often result in costly mistakes where an employee tags a product incorrectly, making it difficult for a buyer to find what they're looking for. 
Take a look at the below red and white striped t-shirt by Monki. If the product had been tagged incorrectly, it probably would not have surfaced when a user typed in "striped t-shirt." If a t-shirt like this is precisely what a customer is looking for and they can't see it, the next place they try might well be your competitor.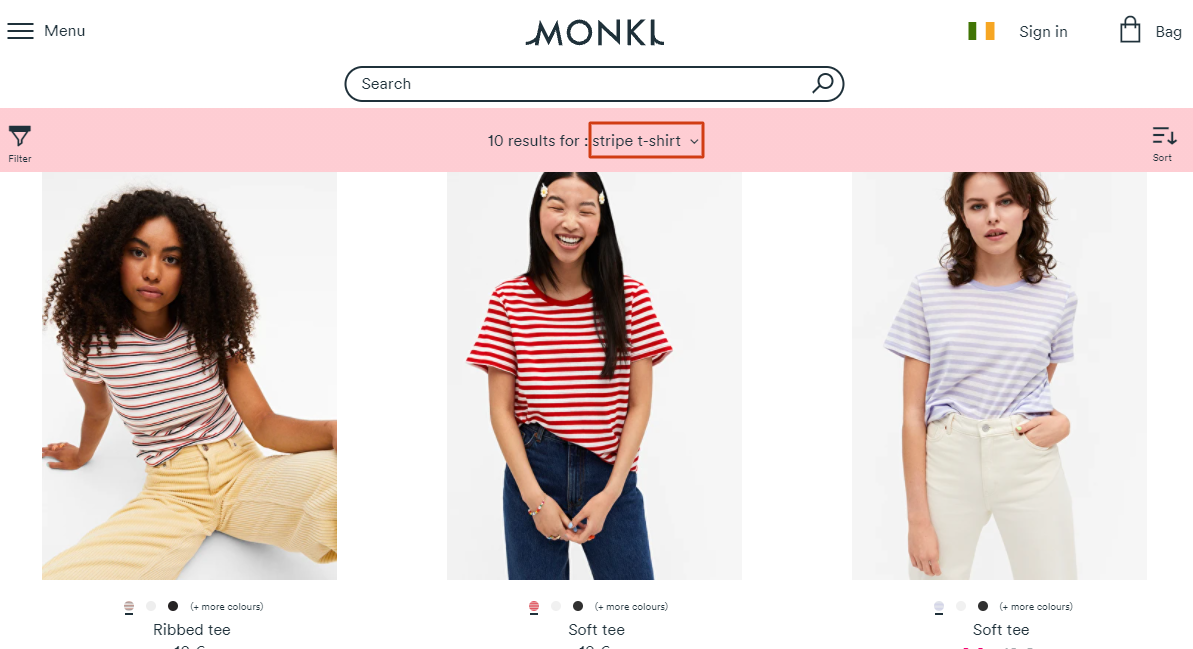 Automating product tagging leaves no room for mistakes. It also lowers costs, improves processing times, and allows staff to focus on more important tasks.
2. Keep it relevant
A customer's searches may not always be specific. This is where Natural Language Processing (NLP), a computer program's ability to understand daily human language, comes in. Retailers can use NLP to bring up results that match what the customer is looking for, even if their intent is not very clear.  
To take this a step further, retailers can combine NLP with autocomplete to correct misspellings and typos, detect synonyms, and identify word importance (for example, if someone searches for a "white dress-shirt," they probably don't want to see dresses or shirts, but rather dress-shirts). 
Notice how when you search for "soks" on Free People, you still get results for "socks." The algorithm is smart enough to know that a customer made a typo.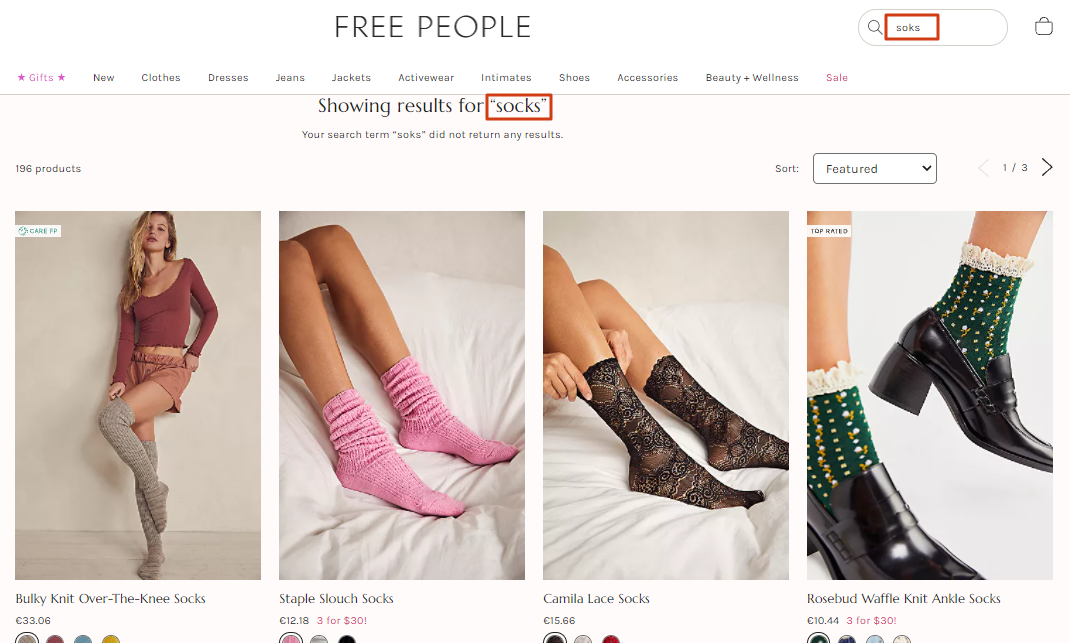 3. Use search rules 
Search rules allow retailers to determine the order in which relevant results will be shown to customers. By boosting or burying specific results, you can promote certain types of products based on things like:
Availability:

Boost items that are in stock or slow-moving and excess products and bury items that are low-in-stock or out-of-stock.

Time of the year:

Display seasonal items.

Profit margin:

Show products that will increase your revenue.

Popularity:

Highlight items that are popular with other customers based on the number of clicks, favourites, and sales.

Release date:

Show newest items first and bury products that are discounted and therefore not as profitable to sell.

Product ratings:

Boost products that get great buyer reviews.

Brand:

If you sell multiple brands and have your own brand products, you may want to display these first.

Notice how one of the first results for "t-shirt" on RedBubble during October is a ghost shirt because the query was carried out close to Halloween: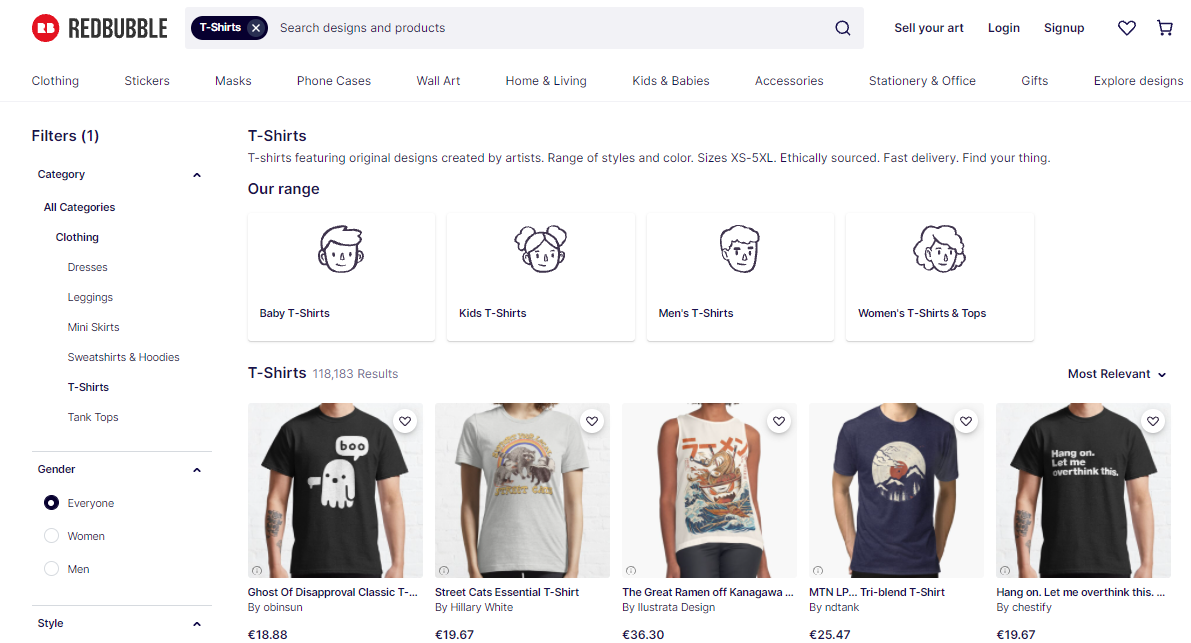 As time goes on and you figure out what works and what doesn't, you may want to optimise and refine some of the search rules you've implemented. 
4. Make it personal 
Even if you show browsers items that match their intent, there is only so much time they will spend scrolling through a search results page. That means that if the item they're looking for is at the bottom of the page, they may never actually see it. As such, it is essential that retailers personalise product rankings. 
Using AI, retailers can make better guesses about what each customer wants to buy from a retailer based on their previous behaviour and preferences. They can then display search results in a personalised order while also taking into account factors like margins and depth of stock. 
For example, if a customer previously bought a jacket from a specific brand, next time they're searching for a dress on that same e-commerce site, it would make sense if they were shown dresses from the brand the retailer already knows they like. 
Personalised recommendations don't necessarily have to appear on just the search results page, either. Massimo Dutti displays trending products based on visitors' browsing history as they're about to start typing in their query: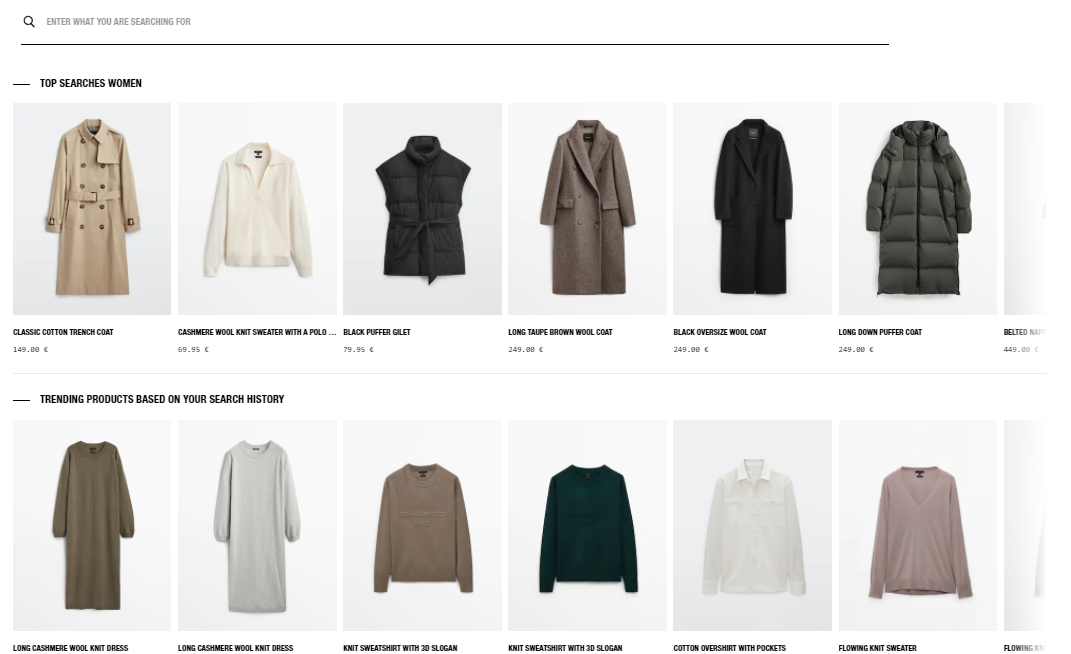 5. Promote it
Retailers can also promote other related products or offers by displaying promotional banners on the search results page.
Asos does this really well:
6. Go visual
Browsers may not always know how to describe what they want. In this scenario, having a visual search function can be helpful as it allows users to search for items using pictures of clothing they like. 
AI can identify clothing in a photo uploaded by a searcher to bring up the closest match for each from the retailer's inventory. 
Here are the search results H&M returns after a user uploads an image of a graphic tee they like: 
7. Add badges
Promotional badges are a powerful tool in communicating something to customers without altering the search results. Retailers can use badges to announce things like:
New products

Trending items

Discounts

Limited availability

New colours or sizes
Urban Outfitters uses badges to promote top-rated items:
8. Don't disappoint
You may not always have the exact item the customer is looking for in stock, but that doesn't mean that you should show them a "no results" page that has little else on it. If you do, you are bound to lose a sale. 
Although typically considered bad for business, the "no results" page can also be an opportunity, as long as you use it wisely. 
For example, while Zara has no results for "fleece jumper," it suggests that users check out results for "jumpers" or "fleece" instead.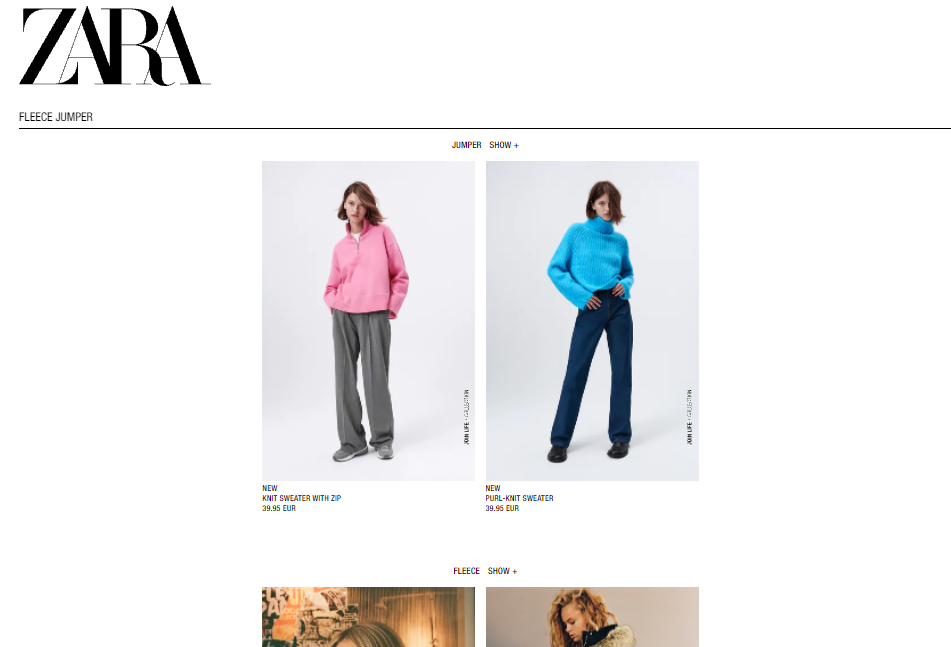 Retailers could also use the "no results" page to showcase selected favourites or recommend similar items the user may like. 
Searchandising Is Here to Stay
You'd think that with so many retailers going online in the last few years, the e-commerce search experience would have improved. However, other retailers' loss is your gain. As demonstrated above, searchandising is not difficult to implement and immediately makes your customer experience stand out.
As competition heats up, e-commerce stores that make it easy for customers to find what they're looking for while also meeting their own objectives will inevitably thrive. On the other hand, retailers that continue to surface irrelevant results will undoubtedly find themselves in hot water. 
To future-proof your retail business, get in touch with Intelistyle today. A leading AI fashion platform, Intelistyle can help you implement some of the most essential searchandising techniques, including product attribute automation, Natural Language Processing, and personalised product ranking, among other things.