How Tagging Products Can Help Your e-Commerce Conversion Rates
For any fashion brand looking to improve its e-commerce conversion rates, there is no shortage of strategies to explore. However, there is one fundamental process no brand can afford to ignore: tagging products. 
If your products are not tagged appropriately, no amount of A/B testing, social proof, or discount codes will help attract — and keep — customers on your site. 
So, what are product tags, why do they matter, and what's the best way to create them? 
What Is Product Tagging?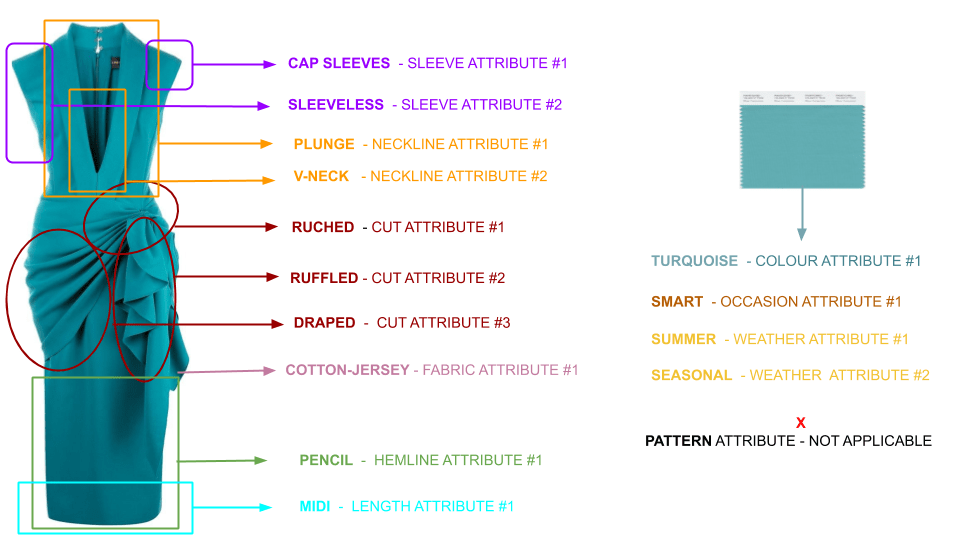 Product tagging is the act of adding keywords to items in your catalogue in order to categorise and organise your inventory. 
Also known as fashion label tags or product attributes, these keywords can be broad (for example, "dress") or detailed (for example, "sleeveless," "v-neck," "ruffled," and so on, as per the example above.) 
How Tagging Products Boosts Conversions
Tagging products is one of the easiest ways that fashion e-commerce retailers can increase their sales. Here's how. 
1. Improved store visibility
With so many fashion e-commerce stores out there, and mega-retailers dominating the online fashion marketplace, it can be difficult for smaller retailers to get their products in front of potential customers. 
You could have the best product catalogue on the internet, but if it's not easy for your customers to find what they want, then your conversion rate is going to be low. 
The good news is that attaching appropriate product tags to your inventory can significantly improve your store's visibility through SEO. 
For instance, if people search for something specific on Google (like "white tennis skirt") and your product tags accurately reflect a matching item within your catalogue, you are far more likely to rank highly on the results page.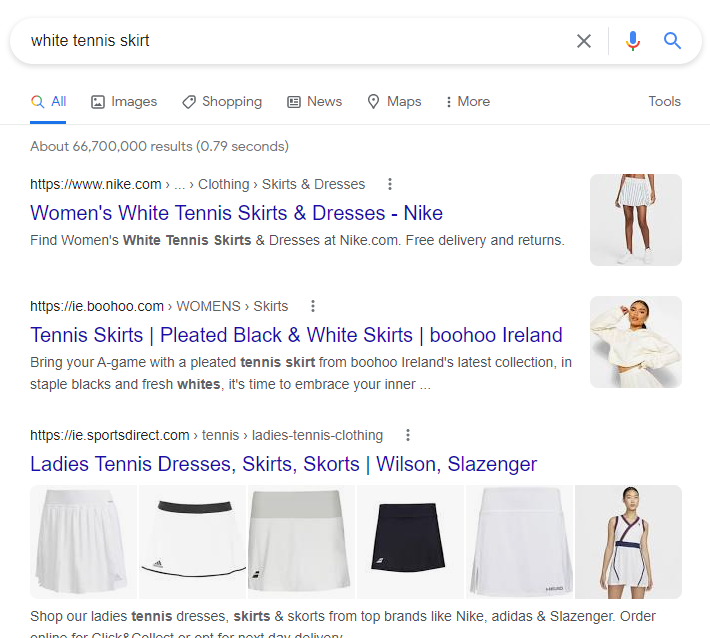 Consequently, a shopper will more than likely end up clicking on your e-commerce store.
2. A direct route for customers to find products
Not every customer will find what they're looking for through a search engine. 
For example, someone might start their journey on Google, click on a product on the results page that seems to match their search, and then decide to explore your site further to see what else you have in your product catalogue. 
On the other hand, others may go to your e-commerce store directly. 
In either case, if your site doesn't use product tags, customers will not be able to navigate your store through the filters/menu navigation/search bar. 
Unfortunately, although many retailers use product tags, few use them well. This frequently creates an under-par experience for users, especially those who know what they want and go straight to the search bar function of an e-commerce store. Research shows that almost half of all users immediately go to an e-commerce store's search bar. These users are also up to 3 times more likely to convert. 
Provided you have an item that a user is looking for, and it has the right product tags attached to it, the user will be able to find it — and buy it — quickly. That's because, with product tags, your store is optimally searchable. 
For instance, if someone looks for a "blue v-neck jumper" on H&M, they will be shown all the blue, v-neck jumpers that H&M currently has in stock rather than every other jumper (or other products) in H&M's inventory.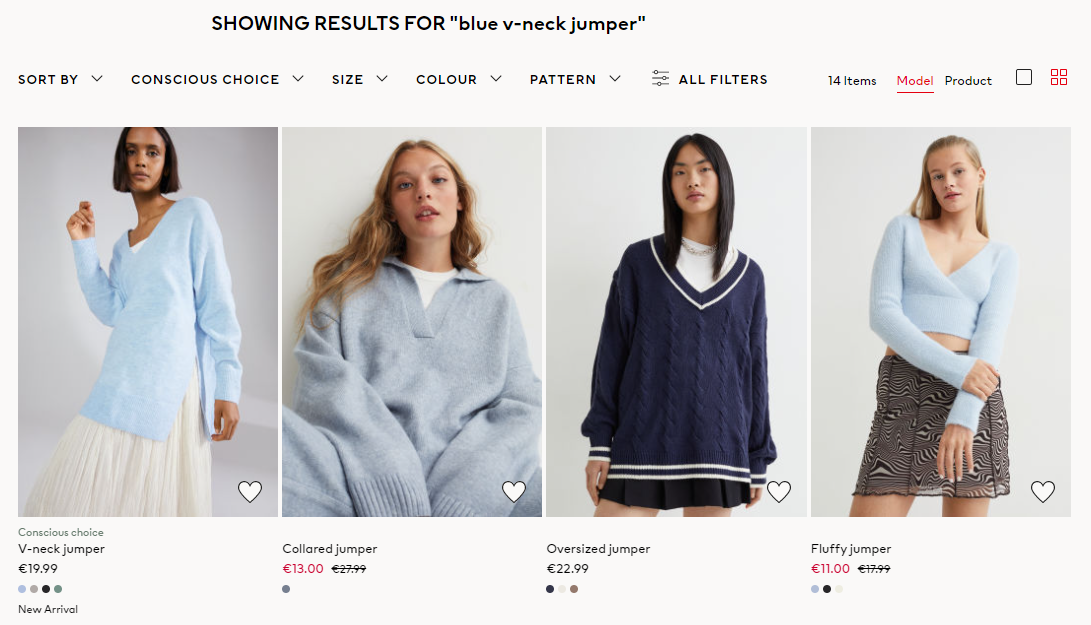 Used in this way, not only will product tags help you increase sales, but they will also aid you in building customer loyalty and increasing repeat purchase rates. 
After all, if shoppers know that they can quickly and easily discover items they want on your e-commerce site, they will return to you before trying your competitors, who may not provide such a good search experience. In fact, more than 1 in 10 users go to a competitor's site after a poor on-site search experience. 
3. Better business decisions
Figuring out why certain products are in-demand, and others are collecting dust isn't always easy. 
For example, if the following graphic tee is always out of stock, retailers may wonder why that is so.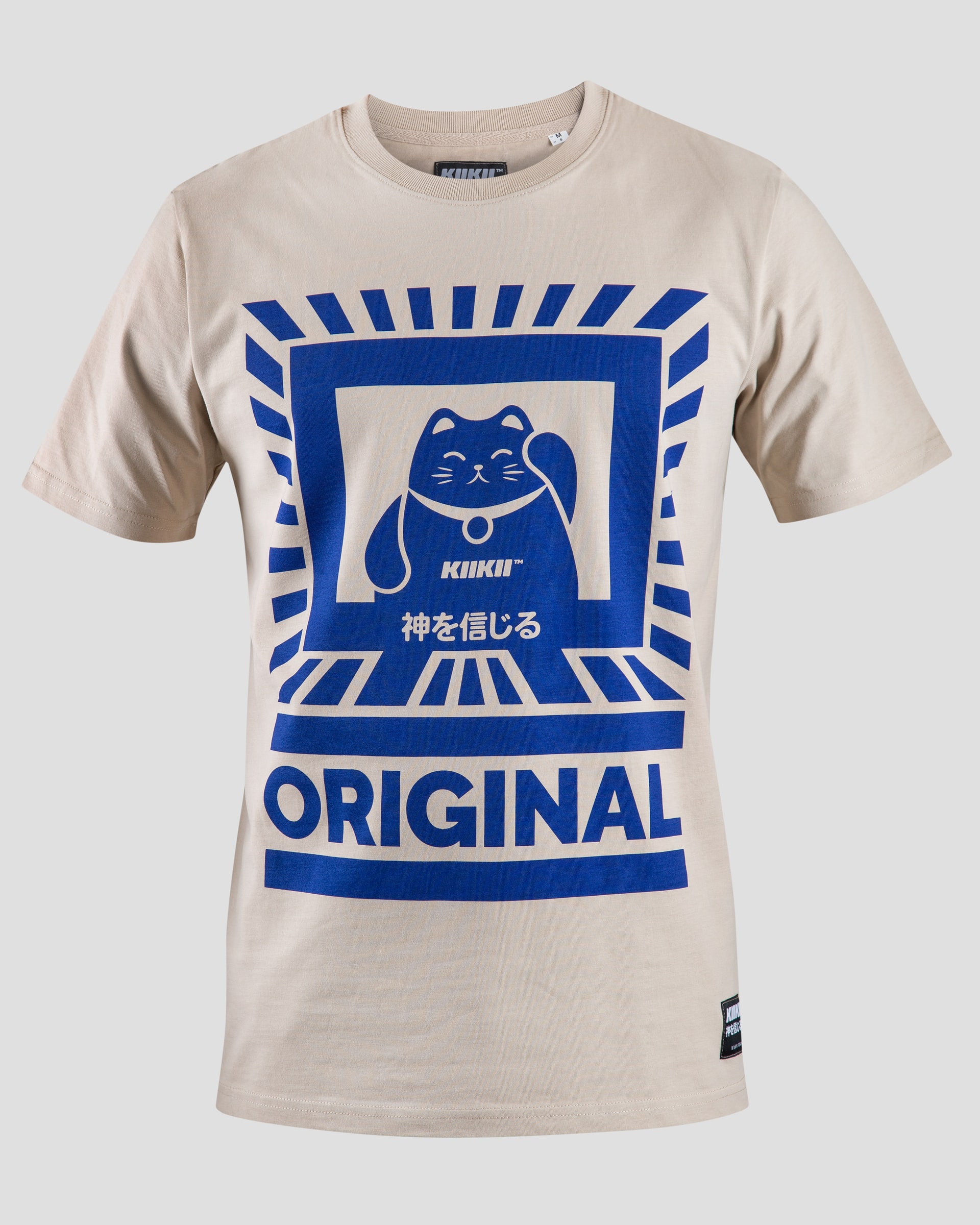 Is the t-shirt popular because it:
Is off-white

Has a scoop neck

Is a regular fit

Is made of cotton 

Has a graphic

Has a graphic of a cat

Features "The Lucky Cat"

Product tags can help brands determine precisely what it is that makes some items attractive to customers based on product attributes. Retailers can then order more products that share similar features.
In doing so, brands can minimise the number of unsold items sitting in their warehouses and improve conversions by stocking only products with attributes that they know their customers already love.
4. Next level personalisation 
By tagging products, brands can pinpoint their customers' tastes and offer them personalised results, whether on the main page, product pages (for example, "Complete the Look" or "Visually Similar"), or through personalised marketing emails.
For example, Nordstrom shows returning users items that they are likely to be interested in based on their browsing history: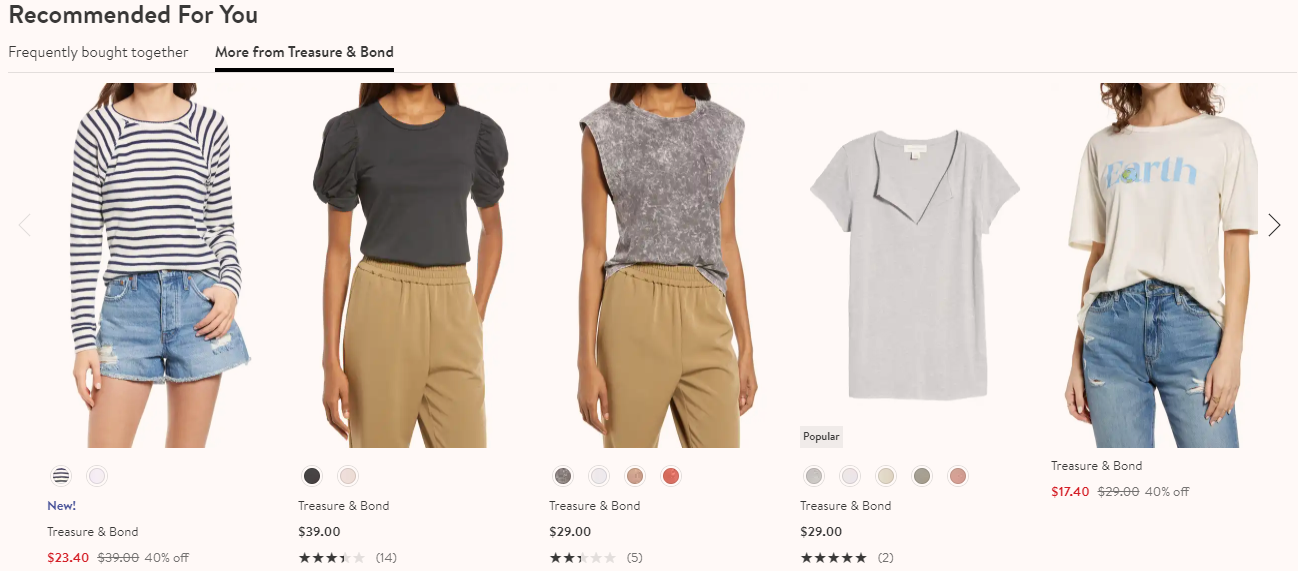 By using product tags to show customers items that match their style and preferences exactly, brands are more likely to:
Engage them, which will ultimately lead to a better customer experience.

Improve conversion rates.

Increase the average order.
Tagging Products: A Quick Guide
There are two ways to tag your products:
Manually

Automatically.


One of these methods — manual tagging — is totally outdated. Although some retailers still tag their products manually, doing so doesn't really make business sense. 
Manual tagging takes up a lot of time that could be better spent elsewhere. It also means that your products will not be searchable immediately, which could mean that retailers could lose sales on seasonal or trending products. 
Particularly if you have a large inventory, manual tagging is also likely to be costly as you will need to hire additional people specifically for this task.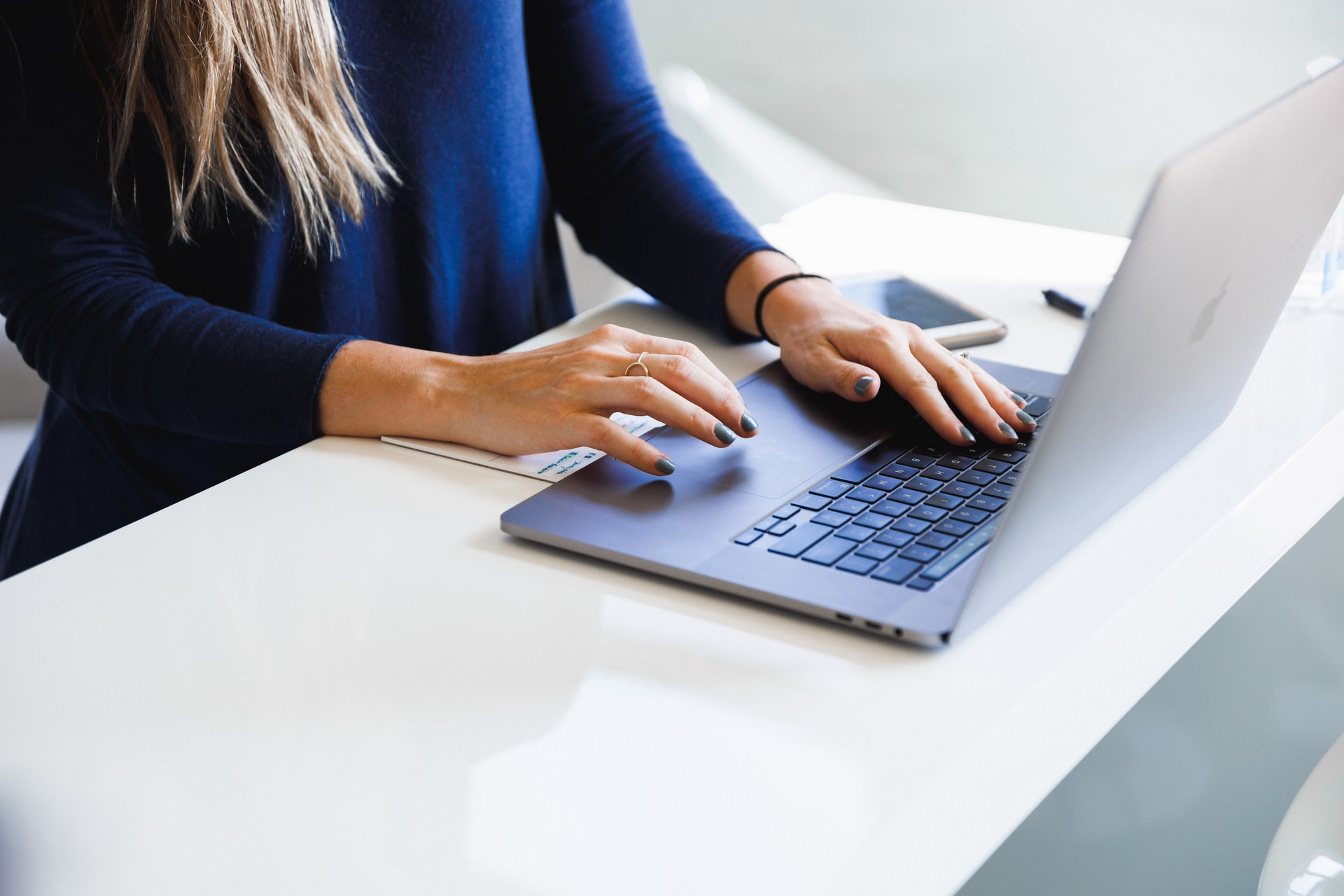 But even if you employ someone solely to tag products, inherent human bias means that mistakes are inevitable. This explains why around 30% of product data in retail catalogues is incorrect. 
Product tagging mistakes cost retailers money not only in the sense that a missing tag can lead to a missed sales opportunity but also in that correcting catalogue errors can cost retailers anywhere between $60 and $80 per mistake. 
In contrast, automated product tagging is foolproof. By using AI image tagging solutions, such as the one offered by Intelistyle, retailers can be guaranteed that every single product in their catalogue will be tagged with multiple relevant tags instantaneously. 
Since Intelistyle's automated product tagging tool can spot even the smallest details, you don't need to worry that your customer will miss your products if they don't use precise search terms that match your products' descriptions. 
And, because automated product tagging increases catalogue processing time by 90%, shoppers will be able to find new items as soon as they drop. 
Best of all, automated product tagging doesn't require any input from you or your staff. Automated product tagging can examine a product image entirely on its own, identifying specific features and assigning it keywords from a predefined fashion taxonomy.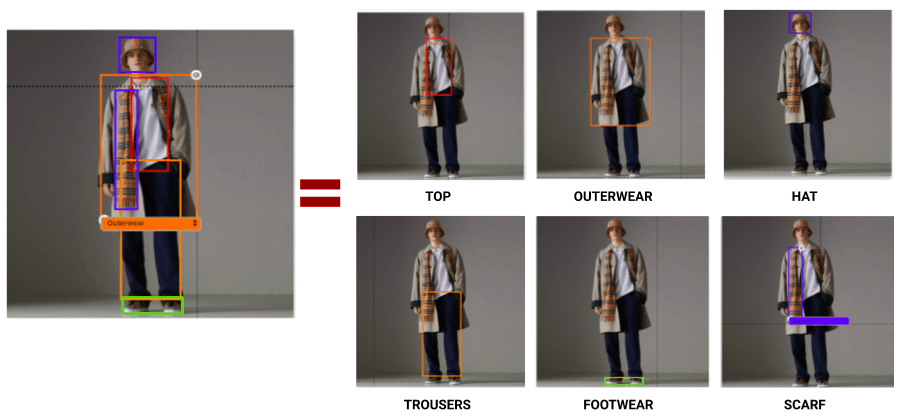 Tagging Products In 2022
Every fashion retailer knows that one of the most important metrics for success is the conversion rate. 
That's why many fashion e-commerce retailers were less than pleased to discover that, overall, the conversion rate for the clothing and accessories industry fell by 0.07% between December 2020 and December 2021. 
Of course, the conversion rate is constantly fluctuating, and there are many factors that can affect it. One of the easiest ways to boost it or, at the very least, keep it stable is to ensure that your product attributes are up to scratch. 
Manual tagging won't work here. The method is too prone to error and takes too long to complete. Instead, every retailer that is serious about increasing their conversion rate this year needs to invest in an automated product tagging tool, like the one that we offer here at Intelistyle. Not only will using an automated product tagging tool take a weight off your merchandising team's mind, but it is also much more affordable in the long run. 
Drop us a line today to talk more about how your fashion business can use automated product tagging.