Top 17 Conversion Rate Optimization Tactics for E-Commerce
In an increasingly competitive e-commerce market, conversion rate optimization for online retailers is what will help them achieve the most out of the traffic they already get. 
Defining conversion rate
Conversion rate is the number of conversions divided by the total number of visitors.
For example:
    A website receives 500 visitors a day 
    They have 10 sales
    The conversion rate is 10/500 = 2%
Multiple complete actions can be considered as conversions and they depend on the goals each retailer has set. Leads, newsletter subscriptions, clicking on a specific offer or any other KPI a company finds valuable could be considered a conversion.
For e-commerce though, the most important goal is to sell. 
" Average conversion rate for e-commerce is between 1%-2%, which actually means that for every 100 visitors, only two are going to be paying customers " 
The most popular tools you can use to monitor conversion rate
In fact, you can't run a website effectively without utilising this tool. Setting up Google Analytics will give you a complete overview of your website performance, visitors and their behaviour. From how your website was reached, to what browser or even what kind of device was used, you can gain lots of valuable information that you can channel into optimization strategies. 
HotJar creates a heat map to show the functionality of click, cursor movement and scroll-depth. Moreover, you can set up attribute-based filters based on page views, country and/or device to give you data about segments related to your visitors. Depending on your needs, it will provide many custom capabilities. 
For websites running on BigCommerce platform, there is BigCommerce Analytics with an administration panel that shows many useful information – keywords potential customers are searching and abandoned carts just to name a couple. 
Conversion rate optimization is beneficial for every type and size of businesses. Whatever your industry is there is always a reason to run quality tests and monitor conversions accordingly. Here are some interesting aspects that you should consider throughout the journey of the conversion rate optimization process. 
1. Know your audience
Define your buyer persona
Before you start selling, you have to define your buyer persona. The more you know about your target audience, the better you will understand their needs and customise your experience. This fictional person embodies the characteristics of your ideal potential customers. Give them demographic details, interests and behavioural traits.
You can have one or multiple buyer personas that you want to target depending on your brand identity and offering. 
Choose the right channels to attract your buyer persona
The next step includes finding the right channels. Social media channels they are using, their favourite search engines are just a few of the things you should consider to attract your potential customers. 
Choose the right tone of voice
According to Albert Mehrabian's 7-38-55 rule, 7% of meaning is communicated through spoken word, 38% through tone of voice and 55% through body language.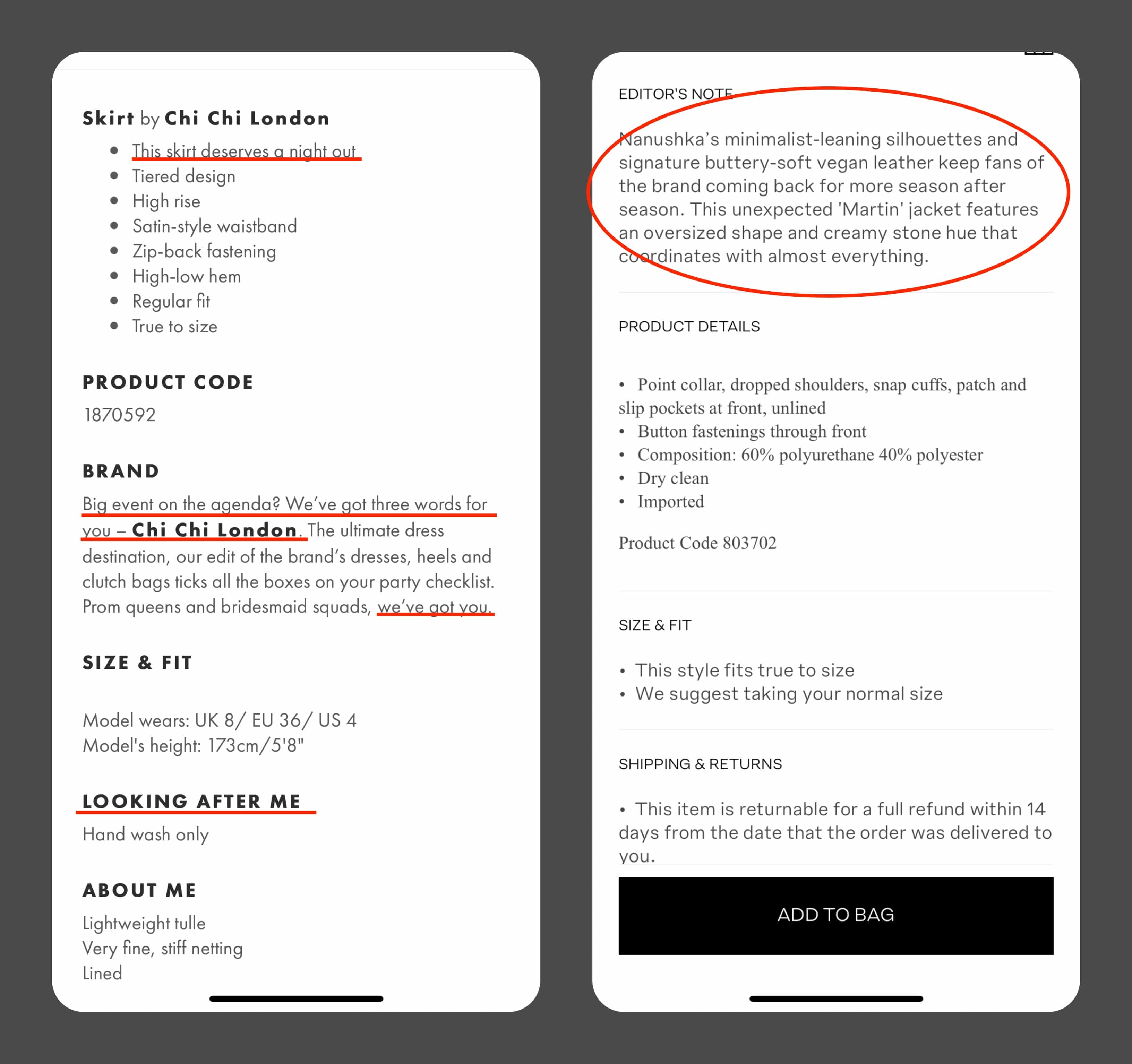 For an e-commerce business, the tone of voice gives your brand personality and this is how your customer can tell you apart from the competition. A consistent tone of voice helps develop trust and builds long-term customer loyalty.  
2. Personalization is the key to conversion rate optimization
Monetate's Q4 E-commerce Quarterly Report revealed that conversion rates increase considerably with personalized content. Visitors who viewed three pages of personalized content had a conversion rate of 3.4%, double the rate for those who were exposed to two pages with personalized elements.
Add-to-cart rates also experienced a 74% increase between the second (9.6%) and third (16.7%) page views. These numbers suggest that you have to create a personalized experience at all levels.  
A simple, yet important feature you can add on your website. When users log in, address them by their name. This makes them feel comfortable and personally related to your brand.
Always keep in mind what your customers prefer and use it to your advantage. Turn data collection into a rewarding experience for your customers and a gold mine of insight for your business. 
Use a technology solution to help you automatically create a customer profile that can be integrated into your digital and physical channels. Make sure that these profiles get updated and enriched with every new interaction and can also be accessed from every brand touchpoint. 
Omnichannel profiles will also help to educate and inspire customers on your brand ecosystem and therefore create an extremely personalized experience. By creating them you will be able to target the right audience using the right content. As a result, you will achieve increased awareness of your brand which will likely result in higher conversion rates.  
Send personalized offers & newsletters
Not all your customers will love the same things or use the same channels of communication. Create personalized offers and newsletters according to their needs and preferences that can be communicated via push notifications, email and even via conversational commerce on Whatsapp.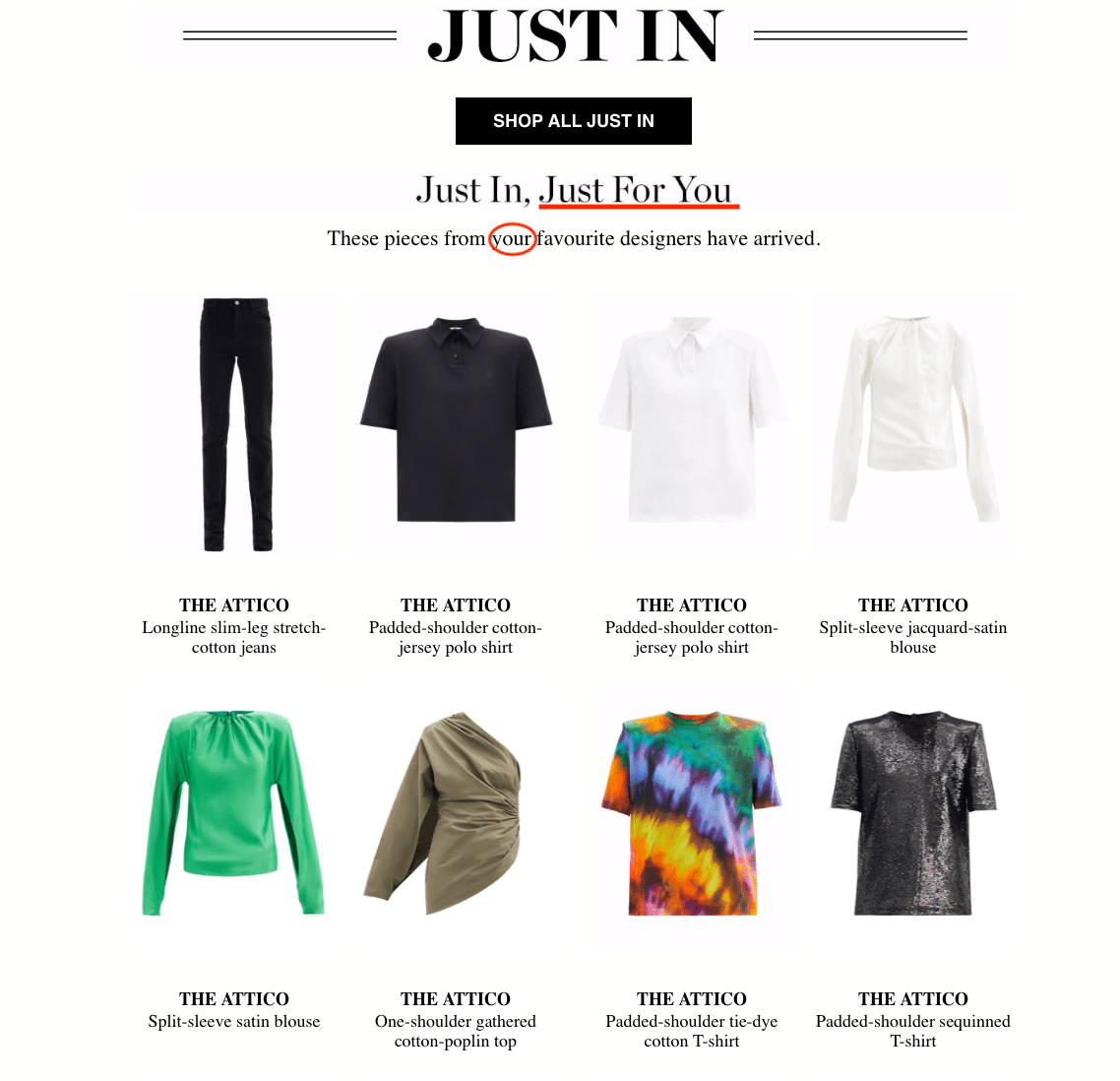 Show your appreciation! Let your customers know that they are unique and valuable. Award them with extra benefits, make exclusive offers on birthdays, and encourage them to come back again.
The more your shoppers spend, the more they should be awarded so that they are motivated to keep being high-spenders and increase your website's conversion rate.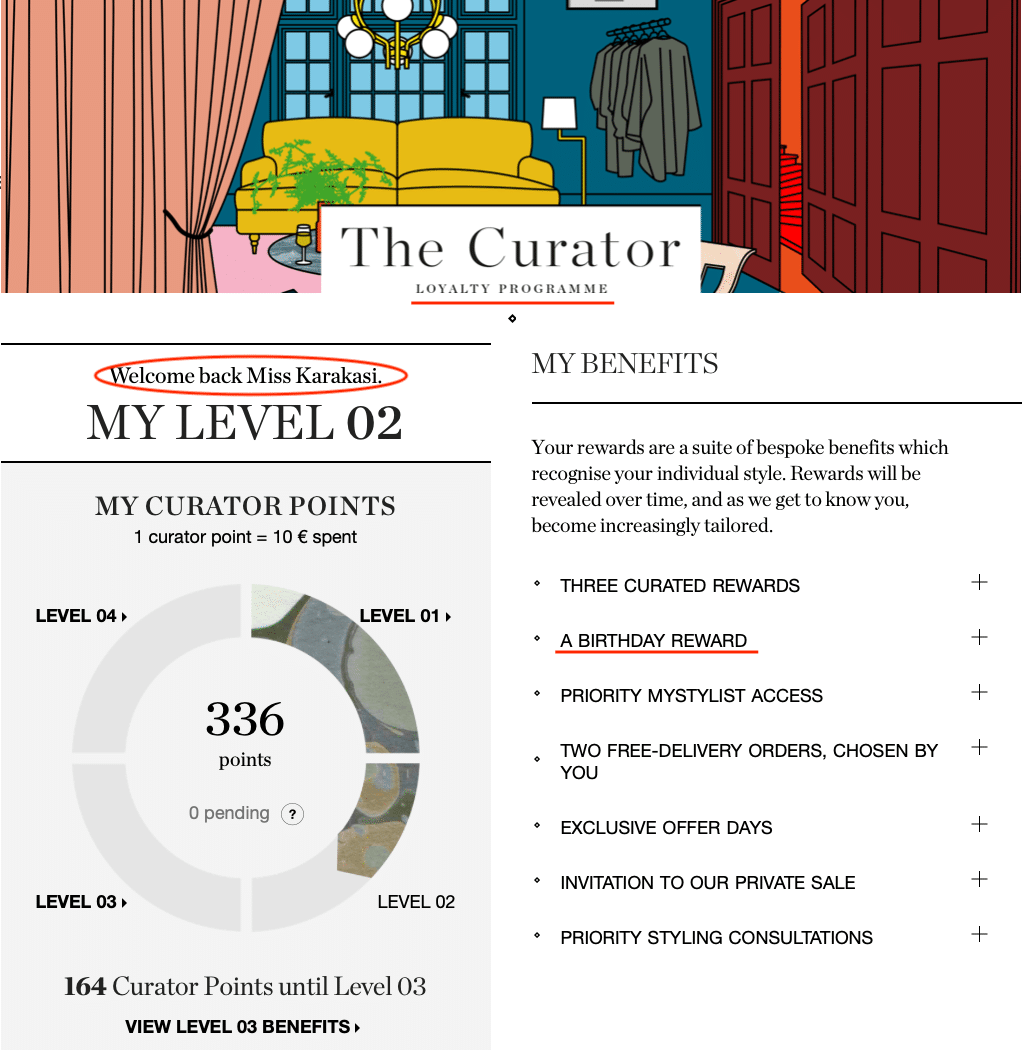 Apart from creating special offers dedicated to your customers' needs, you can also use personalized emails for retargeting purposes. Create an email marketing strategy for those who have abandoned their cart.
Also don't forget to target those who have already purchased an item. An email with a personalised selection of products that will complement what they have already bought has a higher probability of bringing them back to your store compared to traditional "more like this" retargeting.
3. Make the best out of your organic traffic
When someone has reached your website via a search engine, it's obvious that they are at the very least interested in what you are selling. The next step to increase the chance of them converting is to convince them of the value of your unique proposition so they make a purchase. 
Build a brand, tell a story
Storytelling is one of the most powerful tools in your arsenal to influence, inspire and make visitors relate to your brand. It will create a connection between you and those who share the same aesthetics, cultures and values. It will make you stand out and build the much needed bridge between your company and consumers. In other words, the story you are choosing to tell is the main reason why people would choose you over competitors. Make sure your brand story resonates with your target audience!
According to Nielsen Norman Group, consistency is the most critical element in building a successful omnichannel shopping experience. Providing consistent, high quality products and processes allows shoppers to know what they can expect every time they make a purchase. Make sure that you always meet their expectations and that everything is processed as promised. 
Even if someone is not ready to buy at the moment, it doesn't mean that they can't be your potential future customer, since they have reached your website by choice. Don't forget to collect leads. Encourage them to fill in their contact information that you will use for marketing purposes. Ask only what you need to retarget them: make it brief and rewarding to motivate them to proceed with the extra step of sharing this information.
Once a user has reached your website there is always room for conversion rate optimization. Give them a wide range of product alternatives that they might find interesting based on what they are looking for. You can always suggest a pair of jeans and trainers to go with the white t-shirt they want to purchase for instance or show them other higher quality white t-shirts that could meet their needs better.
4. Use visual similarity and outfit recommendations
Always remember that your ultimate goal in order to achieve the best possible conversion rate optimization is to create a unique experience for your customers.
This also includes providing services that they can traditionally only get in-store to give your brand a much-needed competitive edge. Make them feel like they are shopping with the help of a personal style advisor who knows everything about them and styling. 

Complete the look recommendations
A.I. can create unique outfit recommendations for each product on your catalogue. This small yet important addition encourages customers to think about owning the product and visualize how they can combine each item with their own wardrobe selection.
They might also realize that they need more products to complete a stylish look. This will immediately increase their basket size and average order value.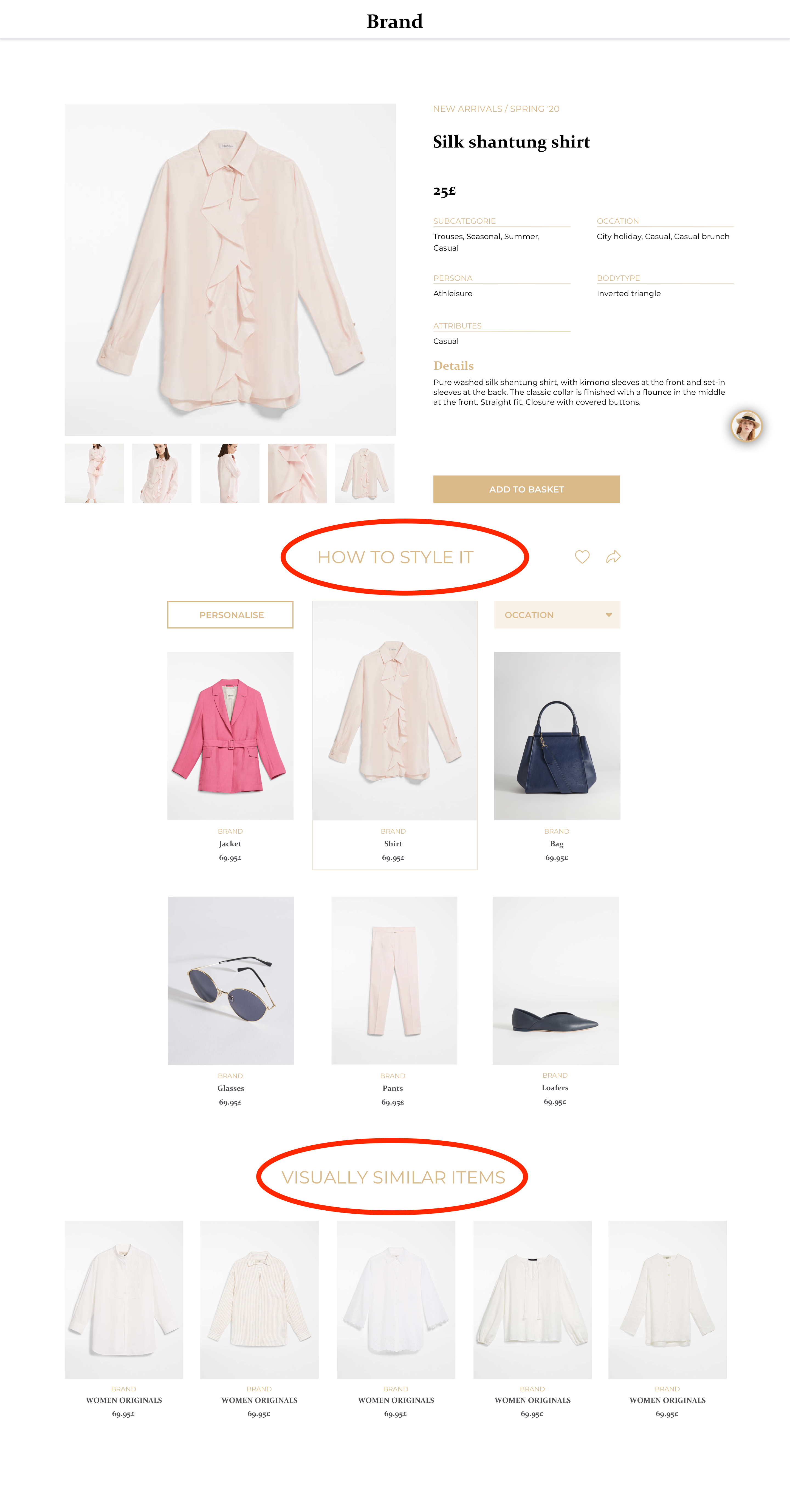 Visual similarity recommendations
Forbes finds that 65% of people are visual learners, therefore providing more information via images is crucial to conversion success.
Including visually similar alternatives on every product page will help your customers find exactly what they are looking for without any additional effort. This will significantly reduce missed sales opportunities where you have the product your customer wants to purchase but they can't reach it in a pool of products.
Visual similarity recommendations can also motivate your visitors to purchase more products or a product with higher price-point.
Let's take for example a white jumper. If you also include visually similar jumpers on the product page, there is always the chance of them opting for a more expensive alternative or even buying more than one. 
5. Improve user experience & make navigation simple
Even if you have the best pricing and the most exclusive offers, people won't be buying if your website is difficult to navigate. 
A picture is worth a thousand words. It is essential that you use the best quality images to show your products. Give your customers the ability to zoom in and out to explore the products in a way that resembles an in-store experience. You can also add videos to increase their confidence in the product and their decision to buy. High quality images give your store credibility, help you build your brand's aesthetics and make you stand out from similar offers. 
A fast site speed is integral to a great user experience. This is why even Google considers this as a ranking factor. A typical user spends more time on a fast site, bounces less and converts better. On average, if a website takes longer than 3 seconds to load, almost 40% of the visitors choose to abandon it. According to Google this percentage reaches 53% for mobile users. 
According to Broadband Search, as of 2019, 55.9% of time spent on a website is from a desktop and 40.1% from mobile.
Responsive design is critical in ensuring that all visitors who view your website's content are able to see everything as intended. Don't expect from people to convert if the elements don't automatically scale to match their device and screen size. 
Use white space, don't distract your audience
Clean design that includes white space allows the viewer to better take in what they are looking at. Don't distract your audience with too much information or a visually crowded design. Try to make your pages easy to read and place your call-to-action buttons strategically, avoiding any pop-ups that may interrupt the user experience. 
Create a user friendly structure
A user friendly interface and structure will be easier to navigate and won't confuse visitors. It will also help them find what they want faster and therefore convert better. 
Moreover, keep in mind that a good site structure is also important for your ranking, since it is easy for search engines to crawl your site (and bring you more users that could potentially convert). 
Sometimes broken links are inevitable, so the main purpose of 404 pages is to inform the user that the page they requested does not exist.
Try to turn this potentially negative experience into a positive one. Find a clever and creative way to inform users about the inconvenience. Make sure you redirect them to relevant working pages easily. This will reduce bounce rates and keep users on your website.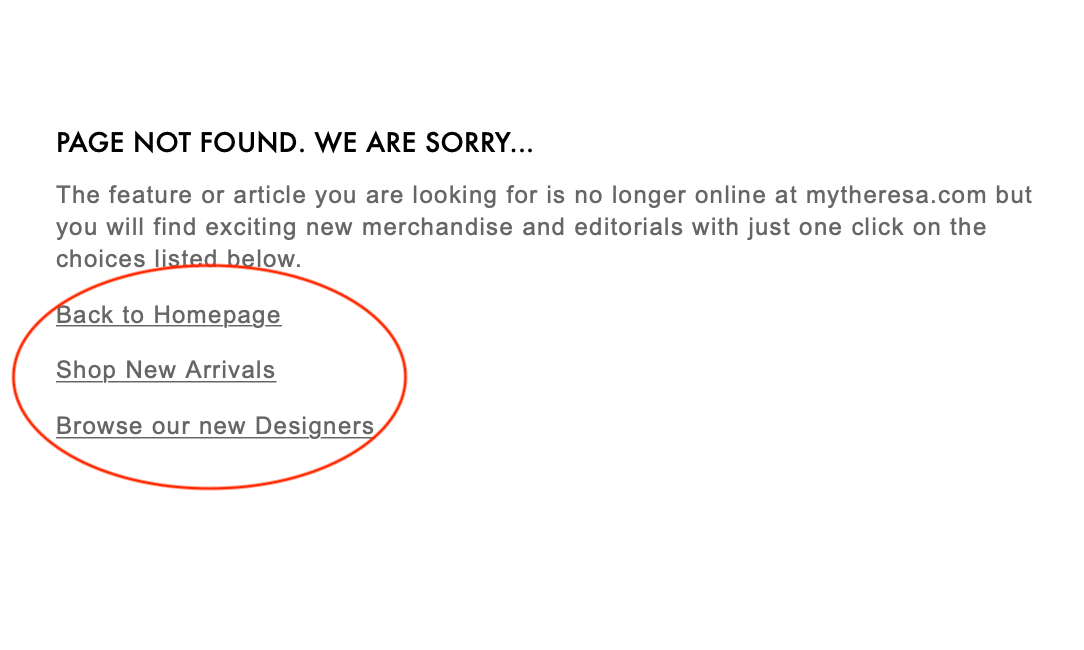 6. Provide detailed information at every point
Every important information should be visible and easily accessible on your website. Using the right tone of voice and a good structure will help your visitors absorb the significant information that may become the hook that converts them. Additionally, relevant information will provide your visitors a deeper experience with your brand and website.
Use detailed and engaging product information
Optimized product titles and descriptions are your most sustainable asset. They should be as descriptive and detailed as possible to ensure that visitors completely understand your product and are convinced of the value. The title will attract their attention and the description will make them visualise it better, which then persuades them to make the purchase.
You can automate product titles and descriptions for your entire catalogue to have descriptive and SEO-optimised content without the associated manual cost and effort.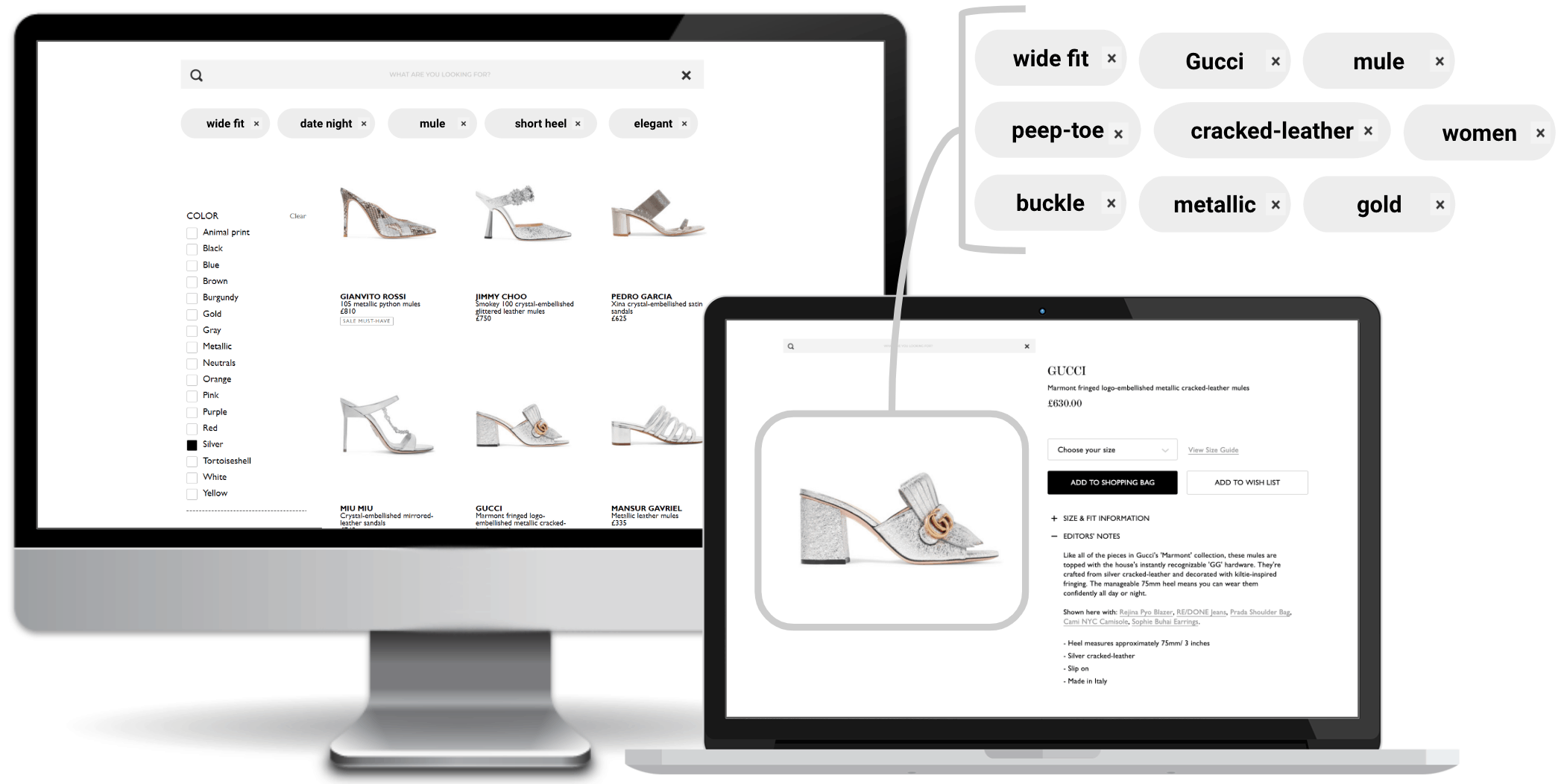 Don't overlook the FAQs page
Users should be able to find everything they want on your site. Creating a detailed FAQs page (that will also include detailed information about shipping and payment policies) will build a relationship of trust between your brand and your customers.
Apart from this, a complete FAQs section will ensure that you won't need additional resources in customer support. 
Everything should be clear and visible enough on your website. Avoiding hidden information and small prints will increase your conversion rate. Shoppers on credible and trustworthy websites don't need to think twice about purchasing a product or service. 
7. Optimize checkout
First things first: make sure your checkout button stands out, so anyone can complete their shopping at any point. Make it easy for customers to find it, otherwise they won't bother searching for it, and probably will leave without checking out their basket. 
Conversion rate optimization also requires an optimized checkout process. It is crucial in terms of cost, because this no-effort step will provide you more revenue without any extra marketing expenses. 
Sometimes customers don't want to enter their personal information, or simply, they are in a rush. Allow them to purchase whatever they want as guests, without completing anything other than the details needed for shipping and payment.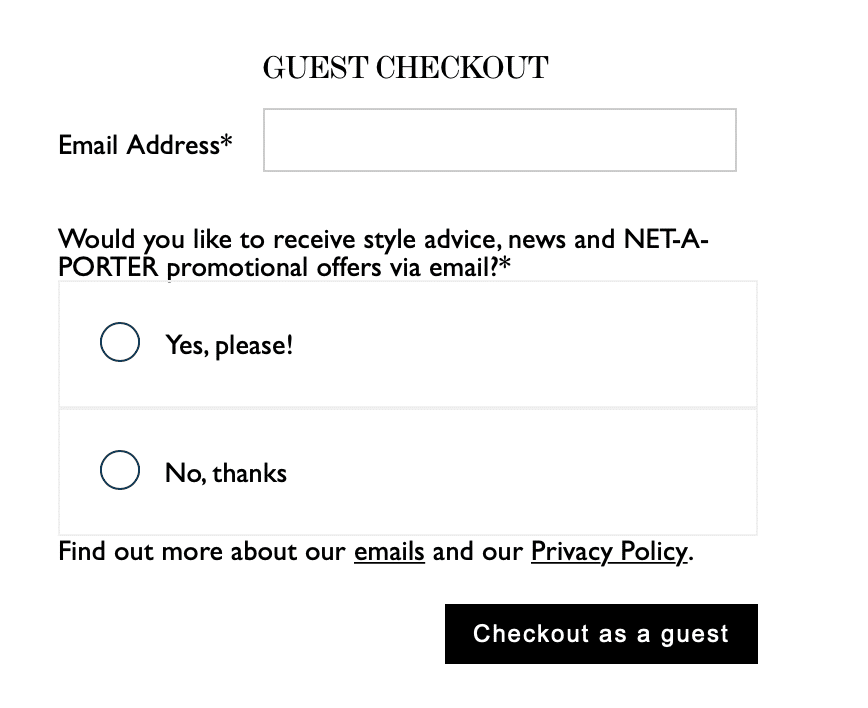 Simplify your checkout process 
Ask only for personal information that is really important for the purchase. Don't ask for seemingly unrelated information, and even if you do, don't forget to explain why – and even give the choice to skip those.
"If the store already has my email address, why do they need my phone number?"
This is what customers ask themselves when required to complete a lot of personal information. Try to make it clear that this is to reach them faster in case of any issues with their order, for instance, so that no one has second thoughts about your reliability. 
Give multiple ways of payment
When you are flexible, you can definitely meet the needs of more customers. After having defined your buyer persona, you should be able to know their payment preferences as well.
Allow them to use different kinds of cards, Apple Pay, PayPal etc. to make sure that they can complete their purchase in the most convenient way for them. 
Make all key call to action buttons visible
Even if someone is determined to shop, they won't do it if they need to look for "purchase now", "pay now", "review my cart" etc. Make sure that they can complete their action just by pressing a call to action button that is right in front of them. 
Always show what the cart contains
While surfing on your website, users will probably press "add to cart" multiple times. They might opt to buy them all, or remove some and purchase only a selection from their basket. They should be able to view what their cart contains whenever they want and manage it as they wish. 
Create a linear checkout process
This would also include clickable progress bars, that will allow the users to return to every point of the process. One of the worst usability problems is a non-linear process which usually confuses users and makes them abandon their cart.
The user must not be directed to previous pages, unless they choose to, to ensure they have the easiest and best checkout experience.

Give the ability to go back without losing personal information
Even if customers want to go back to a previous page, they shouldn't lose the personal information they have already added. Try to avoid repetitive requests and save the details your customers have completed as long as they are still surfing your website. 
8. Take care of abandoned carts
According to Statista, in March 2020 average cart abandonment rate was 88.05%: This includes a 92.61% rate for the luxury market, 90.68% for fashion and 84.51% for all retailers in general. These numbers indicate that there is room for improvement. 
What is the last step before abandoning the cart?
Make sure that everything works properly. Sometimes a slow loading page, an unresponsive button or even a step with unclear information can result in abandoned carts.
The monitoring tools you are using will give you information about the moment when customers choose to exit your website without completing their purchase. Find the malfunctions and correct them in the best possible way.
Create an email strategy dedicated to visitors who abandoned a cart
Part of the personalization process is also to contact users who choose to exit the journey without purchasing an item. Ask them for feedback, remind them that their choices are still available and most importantly, communicate the added benefits to give them the motivation to return.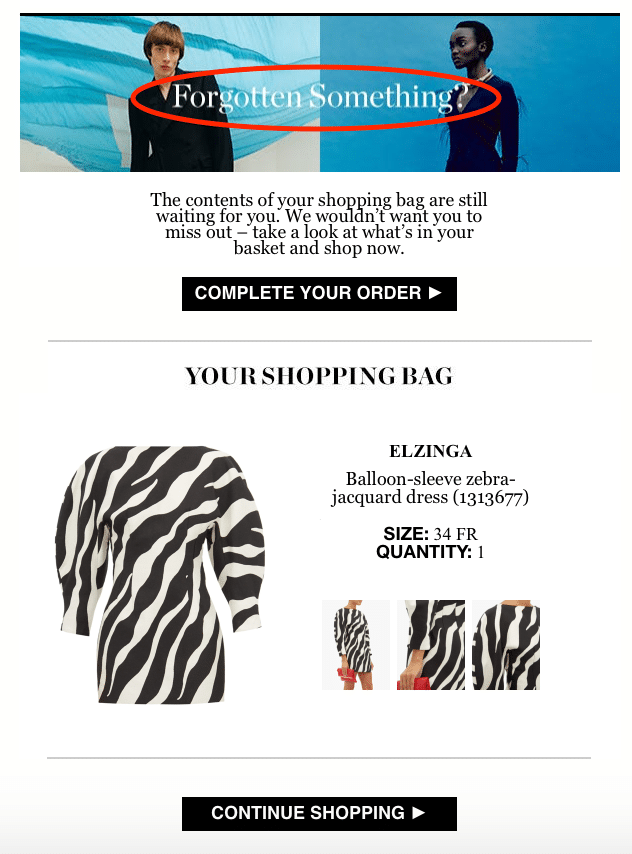 9. Offer free shipping
Baymard established that about 50% of shoppers abandon their carts due to additional charges and unexpectedly high shipping costs. Offering free shipping and returns when possible, will definitely increase your website's conversion rate. Thorough research will help you find ways to reduce shipping costs when free is not an option. 
Although, keep in mind that inexpensive should never mean low quality. Baymard's research also indicates that 18% of customers have abandoned their cart because delivery was too slow. Choose your partners wisely and make sure that their services meet your brand's standards.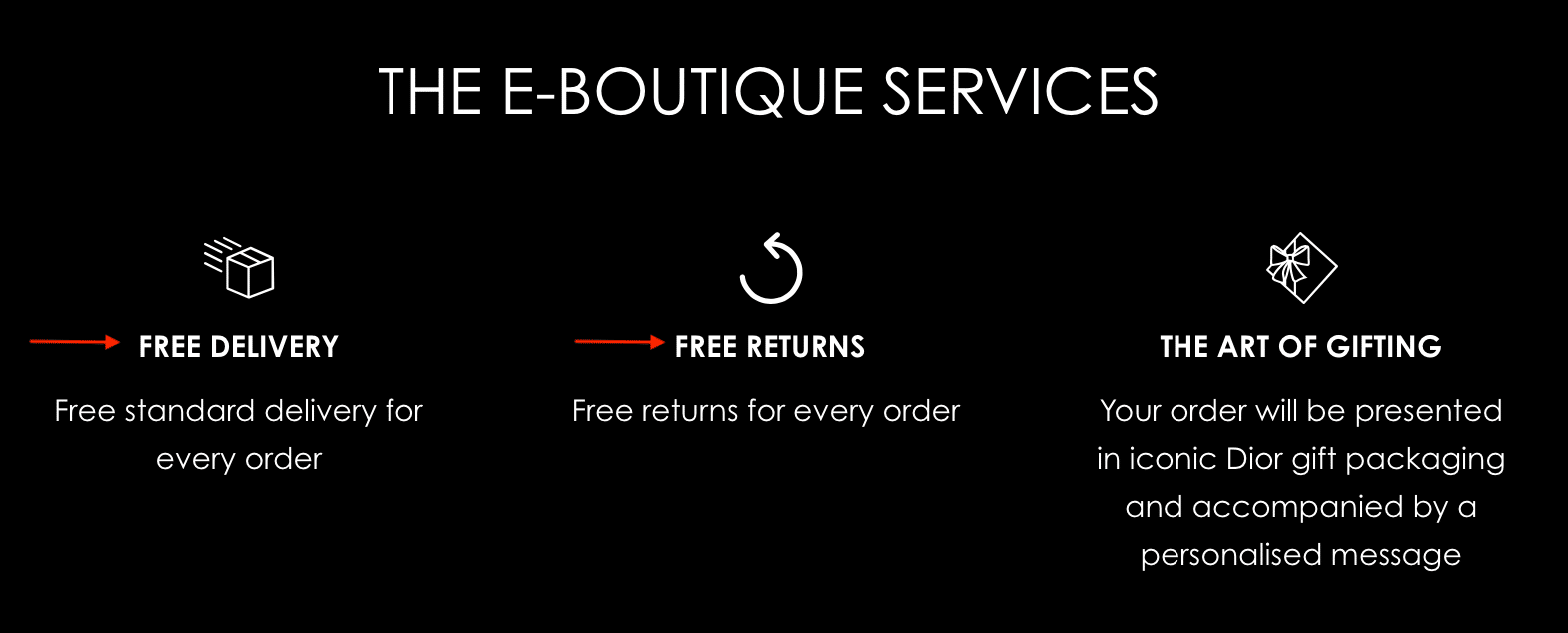 10. Have an easy and comprehensive return policy
According to David Sobie, CEO and co-founder of Happy Returns, when it comes to e-commerce 15-40% of online purchases are returned. Therefore a well thought out return policy is really important for your website's conversion rate optimization. 
Give your customers the time to decide if they actually need what they have purchased. Make them understand that your ultimate goal is to make them happy and not simply to take their money. 
Giving them an easy and free way to return their purchased items will create a relationship of trust between them and your brand. Once this trust is established, they will make repeat purchases from your brand and many of those items will not be returned, increasing your revenue over time.
Moreover, a comprehensive return policy will save you from spending more money dealing with returns. 
11. Always be available for your customers
Even if you are using detailed content with plain language, customers may still have questions about your products and policies. Make sure that they are able to reach you anytime. 
A significant number of agents, specialized in fashion who are also fluent speakers of the language of your target audience will help you increase conversions. Live chat is a way to show that you care and that you are willing to answer any question.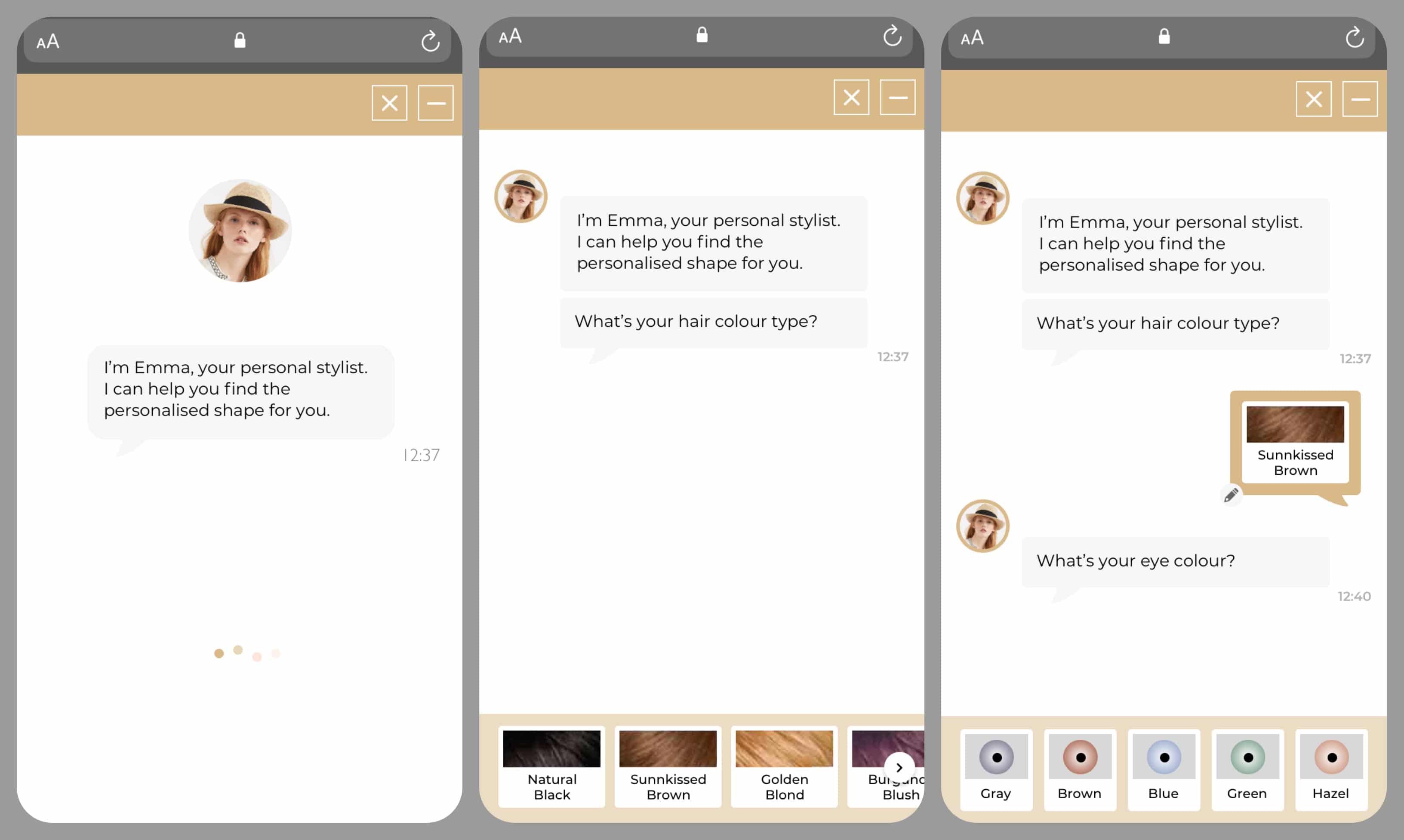 You can even use a chatbot to welcome and help your customers. AI chatbot stylist knows who the registered customer is and what they like down to detailed attributes, such as colours, prints and shapes they have preferred in the past. It also knows which attributes they don't like, without the customer having to repeat themselves. 
Maximize your response rate on emails 
Don't ignore your customers' emails. Try to give detailed and helpful answers that will persuade them to make a purchase. The faster you are doing it the more likely it is to buy a product from your website, rather than choosing a competitor. 
Use contact by phone if possible
Although most people prefer emails, adding a phone number in the "contact us" section will make your store look more reliable. 
Keep in mind though that you are advised to use this alternative only if you have the resources to support it. A continuously busy line without enough agents to support your customers, may harm your store's reliability.
12. Use remote selling tools
Remote selling is a buying cycle where sales and post-sales communications take place between a customer and a sales associate in different physical locations. It is one of the biggest assets in relationship building and customer loyalty. 
It is actually a process that simulates the in-store experience. When combined with AI personalization, it's certain that it will meet your customers' demands at all levels.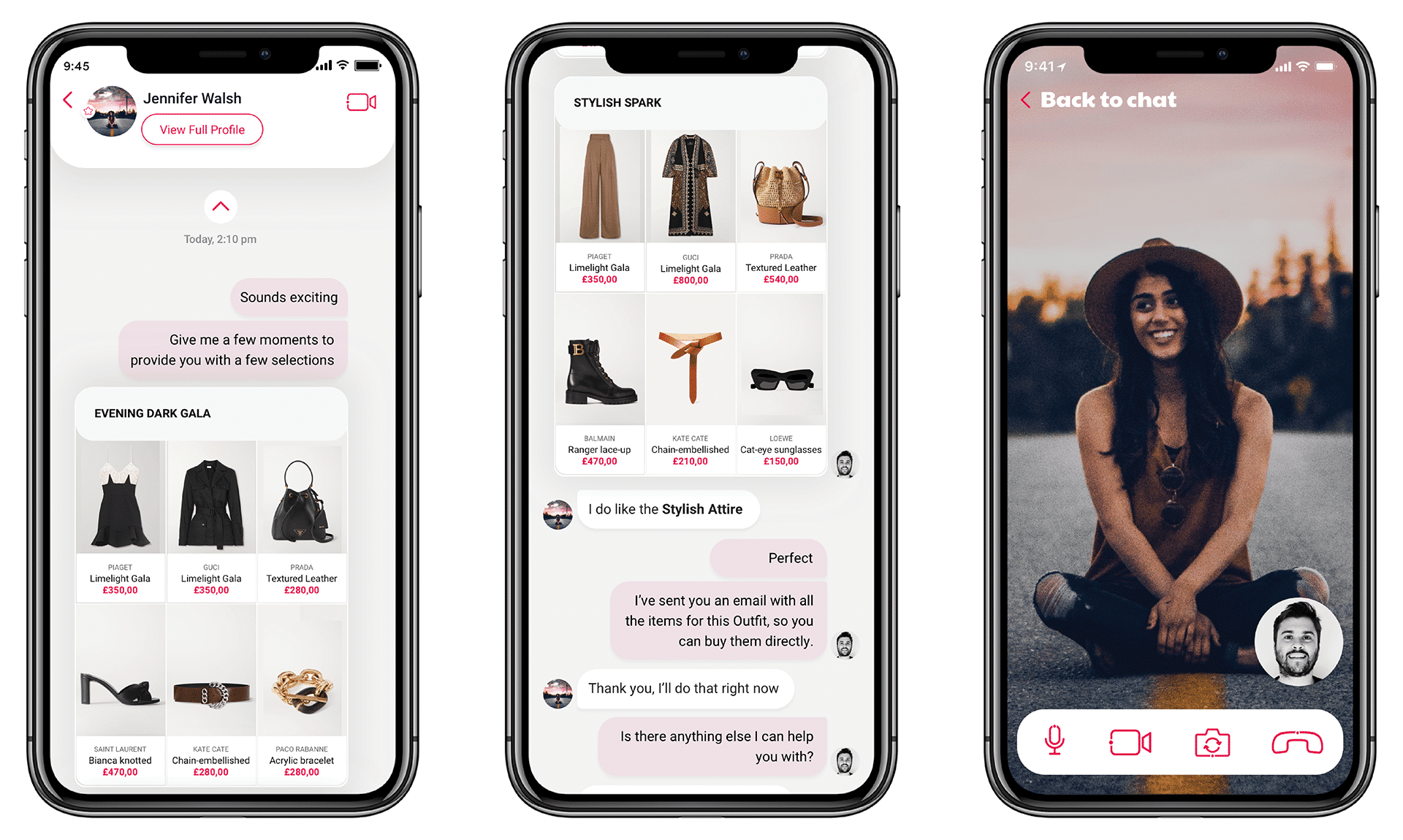 13. Monitor trends and competition 
Competition helps you indirectly come up with innovative strategies. No matter how original your ideas are, several companies would already be running the same business. Monitoring their progress as well as keeping up with trends, will help you gain more customers. 
Rely on competitive pricing
The right pricing strategy will ensure you are not over- or underpricing your products. A complete pricing strategy should be based on a combination of the market, competition, costs and marketing sales funnel. Make sure you are taking into account all the above to achieve the ultimate goal: increase conversions without sacrificing your profit margins. 
Competitive product mix allocation using attribute tags, will make sure that you really know your products and their competitive advantages. After analyzing those you can invest more in your strongest assets. 
Always keep in mind that you have to be relevant. Use social listening tools to make sure that you are familiar with trending topics and preferences so that you can create marketing strategies and on site content accordingly. 
A.I. personalization will make sure that you are always aware of who your customers are and what they want. 
14. Provide useful content 
Optimized content will not only help you rank higher on Google, but will also help in building your brand's identity. 
Don't take it for granted. Even if you have the most qualified staff, mistakes can happen. Automating product titles and descriptions will prevent spelling mistakes and create consistent copy. 
You can always add a blog where you can post articles related to your brand and products. Blogging will strengthen your authority, help you build a community and promote your products indirectly. 
SEO optimized content will also bring you more organic traffic and is likely to increase the conversion rate of your website.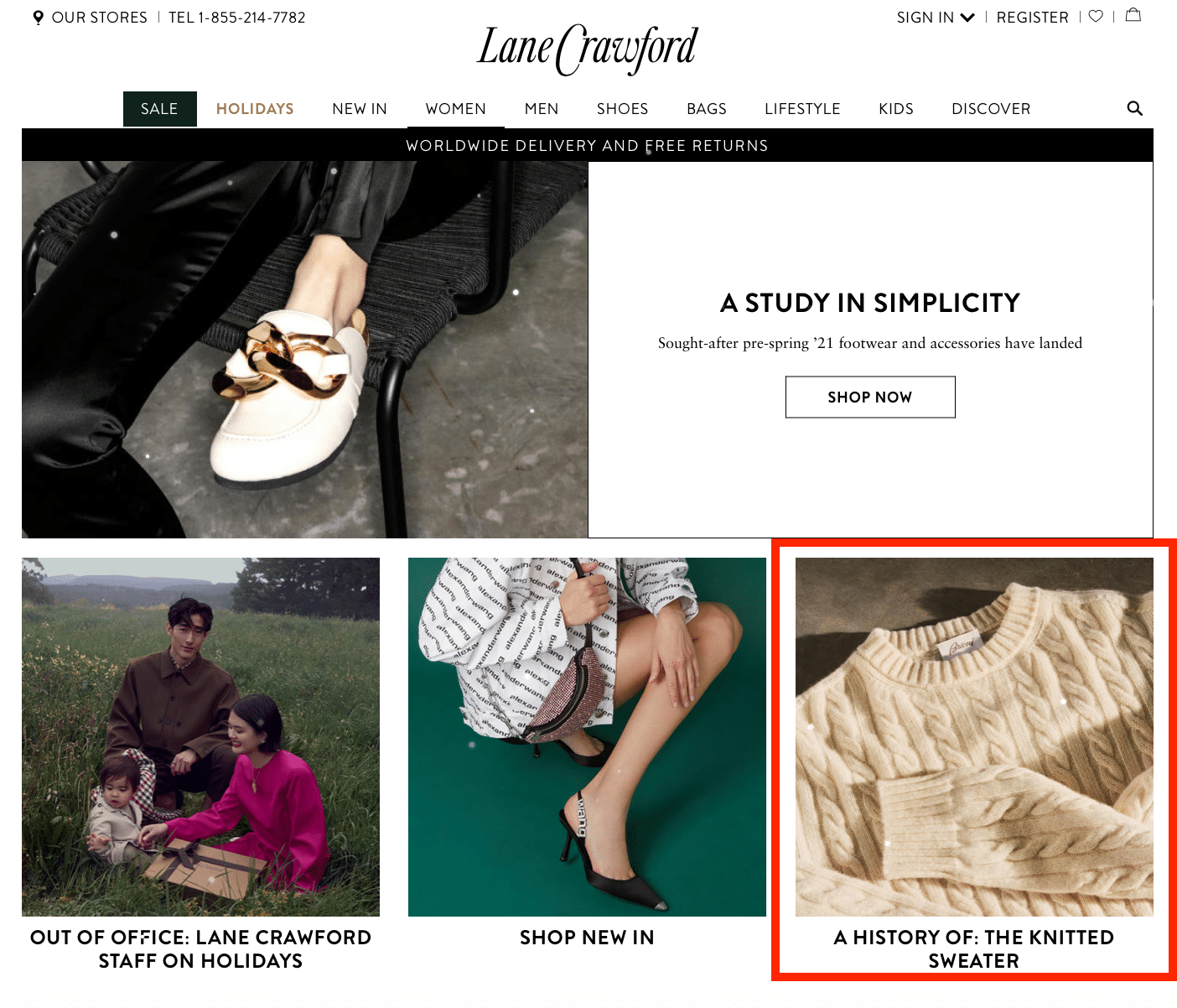 15. Use call to action buttons
Copyblogger has found that CTAs looking like buttons may lead to a 45% increase in clicks. Your call to action tells visitors what to do, where they should go and what to buy. They are making the customers' journey easier and as a result boost conversions.
You can optimize your CTA buttons also by exploring color psychology. QuickSprout found that a red CTA button increased conversion rates by 21%. You can opt for any combination as long as you keep in mind that you keep a clean-cut and in line with your aesthetics design. 
16. Allow and encourage reviews and testimonials
Reviews hold a significant value to e-commerce business and are often used as testimonials. According to Nielsen, 92% of people trust a recommendation made by a peer and 70% will trust one from a stranger. Potential customers are more likely to believe the opinion of fellow customers than that of a brand. 
Social proof is very important. People usually tend to find a behavior correct because other people have already done the exact same thing. 
Encourage customers to leave a review by giving them exclusive benefits such as discounts and offers. As far as negative reviews are concerned, always answer politely, with the right tone of voice, using facts and strong arguments. 
17. Watch additional metrics
Even when you have succeeded in conversion rate optimization, you will have to remember to watch additional metrics that help you understand visitors' behavior. 
Monitoring and working on optimizing the following metrics will also result in higher conversion rate. 
Bounce rate:

The percentage of people who leave after viewing a single page

Average session duration:

A metric that gives you an indication of how much time users spend around your site

Exit rate:

The percentage of people who leave after viewing the page (often confused with bounce rate)

Average page depth:

A metric that shows how many pages a shopper visited before leaving the site

Click through rate:

The percentage of people who clicked a link to your site from an ad or email
Don't forget to keep on optimizing 
Conversion rate optimization is an ongoing process. It includes monitoring, learning, testing and improving at many levels. A successful CRO strategy is the one that takes into account in-depth data and closely watches the customer journey. 
It enables brands to understand how customers and visitors think and act but it also helps in collecting useful data to create all kinds of future marketing strategies. 
Not only is it helping to closely watch your brand's performance and increase revenue, but it is one of the key factors to make you stand out. 
Get in touch today to find out how we can help you on your website's conversion rate optimization.